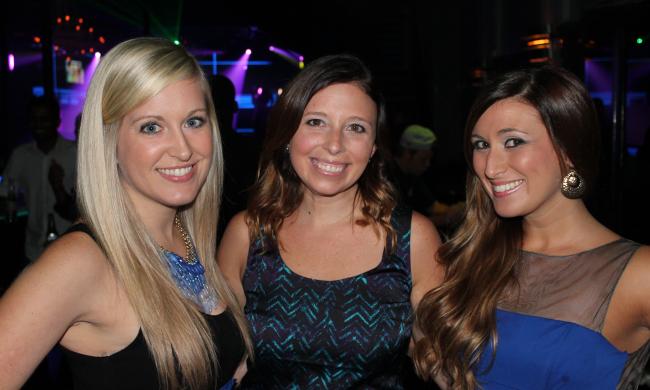 Join the Club
The most asked question in all of Orlando — "Where should we go?" One of the most difficult things about going out in Orlando is there's SO much to do. Yes, I understand that's like someone complaining "All I do is eat fried chicken, cake and pizza, drink beer and never work out, and I just can't gain weight." (We all know you're lying. Fact.)

But truthfully, with so much to do and so many options, it's hard to narrow it down to the perfect place, and it's hard for everyone to agree on one place to go. Please just tell me where to meet or give me no more than three options. You should see me picking out a new conditioner or body wash. It's unbelievable how long I'll stand in the aisle reading the fluffy, salesy, noninformative labels on everything. And then I Google reviews.

So, I absolutely love when the decision is out of my hands. This past weekend, Twitter made the call for me. Through the social networking site, iN Orlando very generously offered me a free bottle at VAiN nightclub. Who am I to turn down such a gracious offer?

I'm not generally a huge nightclub person, mostly because I am not by any means a phenomenal dancer, and I tend to get slightly claustrophobic in bars or clubs with tons of people I don't know pushing and elbowing for personal space. So even though it's not usually in my budget, if I do go to a club, I try to pay for VIP bottle service. You get your own little table and seating area, perfect for enjoying the music and atmosphere (and oh my gosh the people watching!), but without some of the craziness that's normally associated with a nightclub.

Our cozy little corner at VAiN was perfect. We had five people, and we fit comfortably around our table and in our booth. I recommend arriving after 11 p.m., because that's when the place really starts to fill up. It's a BIG club (two stories, four bars), so you definitely want to be there with other people.

 


Just a couple ladies enjoying an evening out.

 

The special guest DJ was Vicetone, who I hadn't heard of, but really Tiësto and Pauly D are the only DJs I have heard of, so please don't take my ignorance as any sign of their talent level. That being said, everyone in our group thought the Vicetone duo was really good. They had a great mix of music, and the songs they played that we didn't know were so good we didn't care.

Which brings me to Big Bad Wolf by Duck Sauce. As I giggled at the lyrics and wondered who would ever produce this song, the majority of people in the club started howling. Yes, howling. Honest to goodness howling like a TV werewolf at the moon. I was dying! Who had even heard of this song?! Apparently, I was out of the loop; because one of my girlfriends immediately showed me the official music video on YouTube, which has about 7 million views. There are no words to describe this video, which is absolutely not appropriate for all audiences, so if you do watch it, make sure there are no children, bosses, grandparents or men of the cloth around.

 


The view from our little corner of the world, before it got really packed.

 

Our server and her helpers were awesome, keeping our ice and juices fully stocked and taking drink orders if we wanted something other than the vodka. Dancers came out to entertain the crowd; the dance floor was packed; and everyone in the club seemed to be having a great night. And we had a perfect vantage point to watch it all. Then, to conclude our night, we got to take a picture with the cat Tom from Tom & Jerry. Not totally sure why a man dressed like Tom wearing a VAiN shirt was there, but it made a fun addition to the evening.

So, the moral of the story is grab four of your friends and each chip in $40-$50 for a little table with a big view, which is also perfect for lounging when your feet hurt because you're breaking in those new high heels you've never worn before. And please don't forget the people watching.

 

Prior to your arrival ...

Before you head out for a night of clubbing, you obviously need to eat dinner. Luckily downtown Orlando has plenty of options, many of which are just a stones throw away from VAiN.

Piper's Downtown Sports Bar & Grill has everything you would expect form the name — lots of TVs and nice big sports bar menu.

Avenue Gastrobar is a modern pub that serves high-quality food. The deviled eggs and French fries are personal favorites.

If you're feeling something a little fancier, Kres Chophouse has won more than a dozen awards. The steak and seafood establishment has been called Orlando's best downtown restaurant.