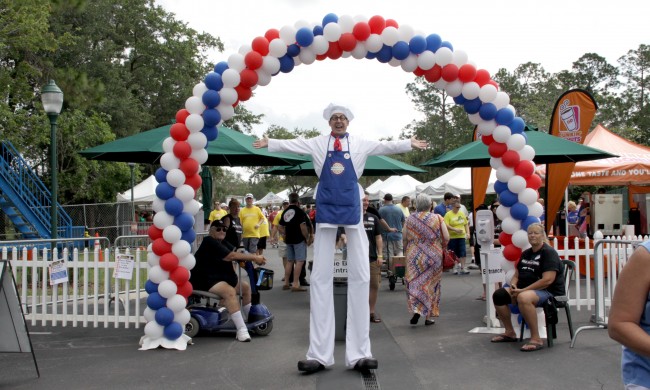 Let Them Eat Pie
There are two types of people in this world: cake people and pie people. Of course, there is going to be some overlap. There are those that posses an indiscriminate sweet tooth, those that don't care either way, and those named Kirstie Alley, but at the end of the day everyone picks a side.

I am a pie guy all the way and, therefore, stand proudly alongside other members of "Team Pie" every April just south of Orlando, FL to indulge, rejoice and eat a year's worth of pie at The Great American Pie Festival.

Pumpkin, pecan, sweet potato, key lime - I crave them all. On the flip side, I do not like cake. Unfortunately for me, a majority of the world is pro-cake thanks to the unwritten mandate that requires everyone to serve the frosted, spongy confection at all major events, milestones and anniversaries. Because of this unjust practice, I have been forced to consume an obscene amount of cake over the years at birthday party after birthday party, lest I be called a "party pooper." Yet when I request a delicious pie to celebrate my own birth, I am met by eye-rolls and disdain for trying to rob my family and guests of their entitled dessert of choice.

 

 

While pie lovers like me have to settle for a lesser treat on their big day, we can have our pie and eat it too at The Great American Pie Festival! Sponsored by the American Pie Council (APC), the event is the culmination of three months of pie festivities that start with National Pie Day in January. On April 26th and 27th, the Great American Pie Festival will allow pie lovers the chance to step out of the shadows of the cake majority and proudly declare, "Let them eat pie ... and by them, we mean us!"

The APC is an organization committed to "preserving America's pie heritage and promoting America's love affair with pies". The APC believes that pie is not just dessert, it's tradition. The tradition of the Great American Pie Festival began in 1995, but moved to Central Florida in 2001. Now on its thirteenth year, the Great American Pie Festival will transform the Towne Center in Celebration, Florida into the Pie Capital of the World!

 

 

The main attraction of The Great American Pie Festival is The Never-Ending Pie Buffet. Guests can sample award-winning pies from Bakers Square, Kroger's, Publix, Village Inn, Winn-Dixie, Duncan Hines and Cabot Cheese, among others. Ice cream, toppings, and beverages are also included. With the low ticket price of $10 for adults and $5 for seniors 65+ and children ages 6-12, all pie lovers can afford to have their day in the sun at The Great American Pie Festival. Just try to pace yourself when consuming a lot of dairy in the Florida heat. You don't want to end up like Ron Burgundy.

 

 

The Never-Ending Pie Buffet is free for children under 6 years of age, but sorry Snoopy: No Dogs Allowed!

The festival also features a good old fashioned Pie Eating Contest, a children's area that includes crafts and bounce houses, live entertainment from musicians and comedians, and an appearance by the Pillsbury Doughboy – who may or may not look like he's violating your pregnant wife while being photographed!

 

 

 

Before closing, I would like to take the opportunity to both anticipate and answer some potential Frequently Asked Questions about The Great American Pie Festival.
 

Yes. The Great American Pie Festival is a large celebration taking place in a community coincidentally named Celebration.
 

 

No. The Great American Pie Festival is not a film festival dedicated to the great American Pie movies.
 

 

Yes. The Great American Pie Festival welcomes pie lovers.
 

 

No. The Great American Pie Festival does not welcome pie lovers.

 

As a precaution, Jason Biggs will not be allowed within 50 yards of the festival.
 

 

Never forget.

 

 

The Great American Pie Festival is located at Lakeside Park in Celebration, FL.
(631 Sycamore Street, Celebration, FL, 34747). The festival begins Saturday, April 26 from 11 am until 7 pm, and concludes Sunday, April 27 from 12 pm until 5 pm.