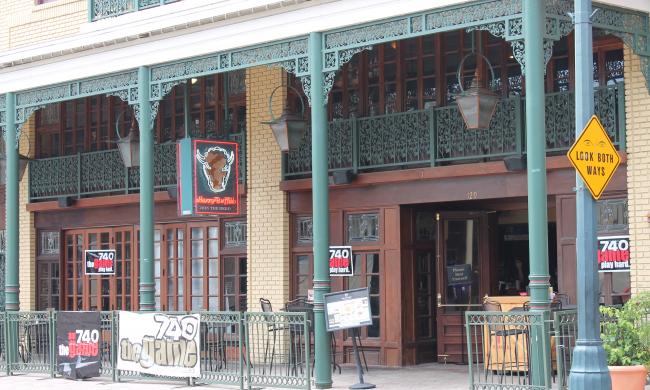 No Gluten? No Problem!
Let me preface this post by saying I'm not allergic to gluten. I occasionally enjoy a beer, and unless it's Angry Orchard (which is naturally gluten-free and some may argue not even technically a beer), when I'm drinking beer, I'm consuming gluten and it's totally fine. However, a while ago I made the lifestyle choice to give up bread, pasta, pizza, fried chicken, cookies, cake — basically everything that's amazing and makes dining enjoyable. I blame my husband for reading the book Wheat Belly. But after giving up gluten I did see some improvements and I felt better, so I stuck with it.

When contemplating the various things to do in Orlando and plethora of dining options, I now have to take into consideration my mostly gluten-free status. Places like Five Guys Burgers and Fries, Subway and Firehouse Subs are now distant memories. It's been so long since I've had hard-core gluten (please see list of aforementioned foods), that if I do accidently eat it, I get really sick. Self-induced gluten allergy?

One recent afternoon, my husband and I were debating amongst our restaurant choices along Church Street in downtown Orlando, and we decided on Harry Buffalo. It's known for its bison burgers, and almost everything is made in-house. Harry Buffalo buys local — produce is from Florida farmers, breads are from Cusano's Bread Co. in South Florida, and meat is from Florida staple Cheney Brothers. What I didn't know was that Harry Buffalo has an awesomely gluten-free-friendly menu! My husband does have a slight allergy to gluten, and working downtown, had already scoped out the gluten-free options. Not only did the menu have obvious gluten-free foods, but the not-so-obvious choices were designated with a GF. I like it, Harry Buffalo.

I started with the GF chili. Almost all chili is gluten-free, but this chili had bison and was gluten-free! For my entrée I had to try the new Fried Egg Burger. Another cool fact about HB is that you pick your protein (chicken, black bean, beef or bison) and you pick your bun (white, multigrain bun, pretzel roll, Italian, multigrain bread or … wait for it … lettuce!).

Now, I've been to places that claim to have lettuce buns. What you really get is a slightly larger piece of lettuce than what would be in a salad. But at Harry Buffalo I got the full-on, real deal, huge piece of lettuce that completely worked as a bun. And of course I had to get bison as my protein.

 


Did I mention the awesome Church Street people watching on Harry Buffalo's patio?

 

For the vast majority of Orlando diners who are able to eat gluten, the menu at Harry Buffalo is huuuge, and there's definitely something for almost everyone. Vegetarians can get black bean burgers, there's some vegan options, a decent dessert menu, and of course if you really can't find anything you want to eat, Harry Buffalo also has a full liquor bar, so you can sip a beverage while your dinner companion enjoys a handcrafted Shroomin Bacon Cheddar bison burger with an appropriately large enough lettuce bun.

Oh – and the seasonal menu had gluten-free pizza, gluten-free Buddha Bowls (rice, veggies, and other fun stuff), and gluten-free tacos with corn shells. I mean, someone at the corporate level must have a gluten intolerance, right?

Last fun fact before I leave you. Bison only has 2.42 grams of fat and 142 calories, compared to 7.41 and 190 for skinless chicken. It's leaner than chicken and makes a pretty darn tasty burger. Yep. I added this visit to the win column.

 

One more stop, anyone?

Looking for a quick drink before heading home? Hang a left out of Harry Buffalo and you have plenty of downtown Orlando bars to choose from — you don't even have to leave Church Street.

Eternal Tap is a fun, unique bar that has tons of craft beers (and some big-name domestics in cans) to choose from. Or you can head downstairs to The Whiskey Cellar for a nightcap while writing on the chalkboard walls.

Chillers is your first stop into a three-story bar that's also home to Big Belly and Latitudes. Level one Chillers is known for its frozen drinks; Big Belly has a DJ, dance floor and strong beverages; and Latitudes is the largest rooftop bar in Orlando.