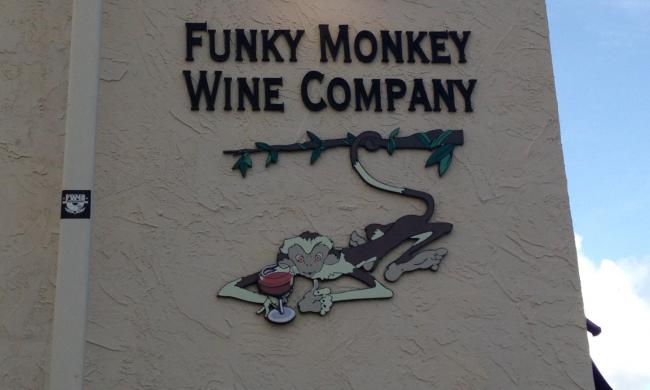 Let's Get Funky
Unless I'm starting a really awesome vacation on a Monday, I don't think I've ever looked forward to the end of the weekend. And I'm not saying the promise of my favorite food is enough to make me love Mondays, but for the first time in a long time, all weekend I was looking forward to Monday.

"Preposterous!" you say.

But I assure you it's the truth. Because all weekend I knew that Monday I was going to venture out of my usual comfort zone and visit a downtown restaurant slightly off the beaten path, aka Orange Avenue.

A few blocks away, on Mills Avenue, is Funky Monkey Wine Co.'s downtown location. And why would this particular establishment be so exciting? Other than the fact that wine is in the name? Because every single Monday from 5 p.m.-close Funky Monkey's entire sushi menu is 50 percent off. Not just some smaller version of the menu that includes a California roll and maybe a Philadelphia roll — this half-off sushi special is on every roll on the rather extensive menu.

I arrived around 6:15 p.m., and the place still had a decent number of tables available, which was a relief. I kind of expected people to flock to Sushi Monday! And, in all honesty, I was shooting for a 6 p.m. arrival, but the parking situation was a little rough. There isn't a lot, so you have to find street parking. Parallel street parking. Ugh. Luckily one block over had an empty stretch of street, so I got to drive right in and be car No. 1.

Inside the wine bar is kind of small, but I like to think of it as intimate. The atmosphere was fun and upbeat; there was good music; and everywhere I looked, everyone — staff and guests alike — was happy and laughing. It was a cheery Monday at Funky Monkey Wine Co.

Obviously, as the name implies, Funky Monkey offers a good selection of wine by the glass and bottle. I mean, that would be super odd if it didn't. And you get to taste before they pour you a full glass, which is a pleasant departure from the normal process of ordering wine by the glass. For the non-wine-lover, there's also beer, including a couple ciders.

Another fun treat? A complimentary edamame appetizer. And it was SO good! In addition to salt, it had some kind of garlic and lemon something or other on it. Super good.

 


The edamame appetizer is really good! And I liked the plate.

 

Since it was our first time visiting, our very friendly server, Anoop, gave us some advice on the sushi menu, which, as previously stated, is pretty extensive. And 99 percent of the rolls have unique names, so you need to read every single description to know what's in what. The hubs and I ordered three rolls, all of which we loved. He claimed the one he picked was the best. We agreed to disagree. But the important part is, all of the rolls were great. Funky Monkey is known for its Asian fusion cuisine, and the sushi really is top-notch and worth paying full price. But why would you do that, when you can just go every Monday and get the same yumminess for half the price?! Right?

 


I'm not a huge fan of food photos — and this doesn't do the sushi justice — but the presentation was really good, which I think is important for any sushi dish!

 

In conclusion, I knew I would most likely love Sushi Monday at Funky Monkey, because I love red wine and I love sushi. A lot. But what I didn't realize was how many rolls I could pick from, how many wines I could try, how friendly the staff would be, and how much I'd love everything we ordered. Ummm and the free edamame?! In this instance, venturing away from the hustle and bustle of Church, Wall and Orange absolutely paid off, and I'm not exaggerating when I say I found my new Monday evening hangout. I just wish I could reserve my no-parallel-skills-needed parking spot.

 

At the end of the road ...

If you decide after your half-off sushi dinner you'd like to grab a cocktail or another glass of wine, head down the street and back to the main hub of downtown. There's plenty of fun places to choose from!

The Basement on Pine Street has $3 shots all day, every day; and Industry Monday visitors get a free Fireball shot.

Ghost Bar + Lounge, also on Pine Street, has Half Tab Happy Hour Monday-Saturday, which means you pay just 50 percent from 5-9 p.m.

Eternal Tap on Church Street has craft beers and liquors, as well as favorite big-name domestics in the can.