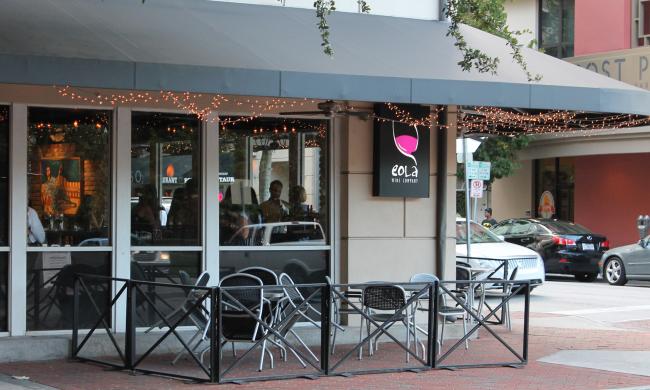 Raising a Glass to Help End Hunger
Share Our Strength's Taste of the Nation Orlando is an annual event that raises money to help end childhood hunger. And let's be real, that's a cause everyone can get behind. This year's beneficiaries are the incredibly deserving Coalition for the Homeless of Central Florida and Second Harvest Food Bank of Central Florida. Presented by Darden Restaurants, the event will be held Aug. 10, 2013, at Orlando World Center Marriott. It's completely understandable that not everyone in Orlando will be free that weekend and able to attend. Maybe you already have plans; maybe you have friend or relatives visiting; maybe gourmet food from 35 of Central Florida's top chefs isn't your thing. Ha! Yeah, right.

Luckily for those who aren't able to attend the main event, Eola Wine Co. offered a great alternative. Each Wednesday for four weeks, you could visit the popular wine bar and pay $10 for unlimited wine by the glass for two hours, and all the money benefited Taste of the Nation. Great deal; great cause.

Never one to let such an occasion pass me by, a friend and I attended one of these evenings at Eola Wine Co. We got there right on time to take full advantage and guarantee ourselves a table at the corner bar and eatery. Not even taking into consideration the unlimited wine, it was such a great experience! Everyone from the greeter at the door to the person pouring the wine was super friendly; our server was attentive but not overbearing; and, unlike some other wine events I've been to, the line for a refill was almost nonexistent. You had your choice of red or white, and even though the event was very well attended, it felt relaxed and cozy, as opposed to crowded and busy. Great deal; great cause; great experience. A definite win-win-win.

 


Eola Wine Co. hosts a pre-event fundraiser for Taste of the Nation — $10 for unlimited
wine by the glass!

 

I am blessed to be able to attend the 24th annual Taste of the Nation Orlando tomorrow evening, and I couldn't be more excited. In addition to the phenomenal food, there are 15 beverage suppliers, including some of my favorites, Barefoot Wine & Bubbly and Orlando Brewing Co. For soda drinkers, you are so in luck, because soft drinks are provided by The Coca-Cola Co.! Sorry Pepsi lovers, I just get so disappointed when I try to order Coke and the server says "Is Pepsi OK?" I hate that.

So, the food and drinks will be awesome, and of course there's also entertainment, and live and silent auctions. You can walk away with a full stomach and tickets to theme parks, restaurant gift cards, autographed memorabilia, golf packages, a trip to Cancun and SO much more! It's guaranteed to be a great evening, and you can feel good knowing you're giving back to a great cause. And if you can't make it, no worries! I'll have my full recap and photos from the event up next week. I'll even try to Tweet and post a quick update on Facebook while I'm there. If you want to be there too, below is some more info on this totally worthwhile event, which still has tickets available. Cheers!

 

I want to go!

Taste of the Nation Orlando will be held Saturday, Aug. 10, 2013, from 6:45-10 p.m. at Orlando World Center Marriott near Lake Buena Vista. Tickets are $150.