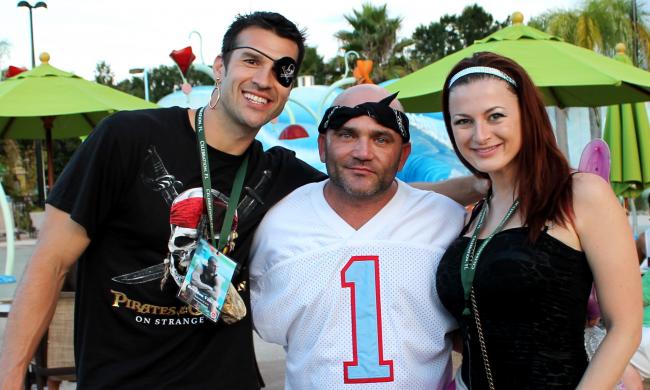 Getting Real About Giving Back
I'm a serious TV addict. Dramas, comedies, reality shows, crime shows, musicals, competitions — I love them all. And thanks to the genius of DVR, On Demand and Netflix, I'm able to watch pretty much every show I want, whenever I want. Sometimes I think I have a bit of problem. But then I think I'm OK with that.

For the sake of one of my more recent Orlando escapades, let's focus on just one category — reality TV. Not Here Comes Honey Boo Boo or Bad Girls Club; I prefer the classics. And what is more classic than MTV's The Real World, one of the first reality TV shows ever?! Two of my other all-time favorites are Survivor (Season 27 premieres next month! 27!) and Big Brother (How did we ever get through the summer without you?!).

Well the stars of these hit shows don't just have a love of money and fame, they also have a heart for giving back. Each year, some of the biggest names from Survivor, Big Brother, Amazing Race, The Real World and other shows visit Orlando to take part in Hearts of Reality Weekend, benefiting Give Kids the World Village. The weekend long event is honestly one of my favorite annual things to do in Orlando. More than 100 reality stars visit Orlando for the sole purpose of raising money for Give Kids the World Village, a 70-acre resort that provides cost-free vacations to children with life-threatening illnesses and their families.

 


Stars from past seasons of Survivor, Big Brother, The Real World and other shows visit Orlando to raise money for Give Kids the World Village. Some notables — "Boston Rob" Mariano, Frank Eudy, Evel Dick, Hayden Moss and Mark Long.
 

 

Mostly taking place in Celebration, near Walt Disney World Resort, this year's festivities included a sidewalk sale and treasure hunt, autograph signing (the line was insane, but so worth it!), and luau-themed post party at Celebration Town Tavern.

But before breaking out their pens and karaoke skills, the 100+ stars visited GKTW, where they toured the resort, met the families staying there, and took part in the weekly Pirates & Princesses party.

 


Special Agent Phillip Sheppard of Survivor Redemption Island and Caramoan

 

I was lucky enough to tag along, and there are no words for how incredible this place is. It takes 1,500 volunteers a week to run GKTW, not to mention the countless fundraisers and donations that are needed to keep it cost-free for the families who travel from all over the world. More than 122,000 families from all 50 states and more than 74 countries have stayed at GKTW in its 140 villas. Transportation, lodging, food, entertainment, gifts — everything is taken care of for these children with life-threatening illnesses. The families mostly visit the theme parks and attractions during the day, and then each night at the village is a different theme, including Christmas once a week. And it's all thanks to the generosity from individual people, corporations and gift-giving organizations.

Touring GKTW with some of the reality stars and seeing them sign autographs for the families, it's obvious why most of them come back year after year. It is impossible not to be touched and to not want to give back.

 


Back for another year to support a great cause are Terry Deltz (left) of Survivor Panama and Ozzy Lusth of Survivor Cook Island, Micronesia and South Pacific.

 

Whoever conceptualized and implemented Hearts of Reality Weekend is one smart cookie. I would gladly pay $20 for all 100+ autographs, $30 to attend a private party with all 100+ stars, and donate to the individual fundraising goal of my favorite reality star (that would be three-time Survivor contestant Ozzy Lusth. Please see photo!); and it's clear from the success of this weekend that I am absolutely not the only one. And Give Kids the World — please believe me when I tell you it is so so deserving of your time, donations and volunteer hours. If you would like more info, please visit www.gktw.org, where you can donate and see the current volunteer opportunities. Getting married? GKTW offers donation favor cards that start at just $100. Your special day can help someone else who really needs it to also feel special. How cool is that?

There are lots of things to do in Orlando, and I'm striving to try them all. But after touring Give Kids the World, learning about all it does and all it needs to achieve its mission, and seeing how wonderfully it pulls together more than 100 big personalities all for one common goal, there is nowhere else I'd rather be each August. And that's for real.

 

Other Ways to Give Back ...

The Walk to End Alzheimer's Kick-Off Party is Aug. 20 at 6 p.m. at The Abbey. You can meet team captains while enjoying yummy food, beer and desserts. Last year, more than 1,800 people participated in the walk, and this year is going to be even bigger!

American Cancer Society's Making Strides Against Breast Cancer Kick-Off is Aug. 28 at 6 p.m. at Florida Citrus Bowl Stadium. Celebrate ACS's 100th birthday and MSABC's 15th at this football-themed party.