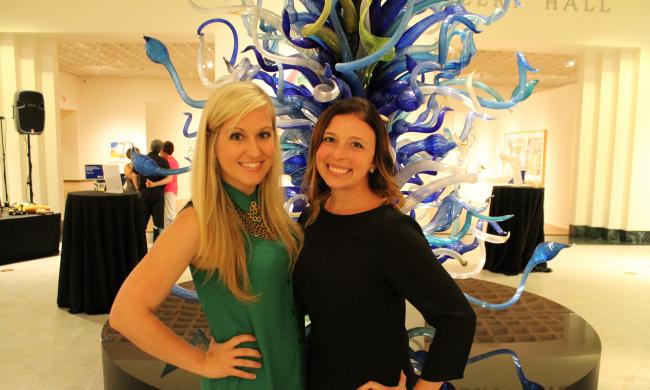 Party Like an Art Star
Central Florida residents (and visitors who time their vacation right) are lucky enough to have lots of options when it comes to the visual and performing arts in Orlando. Undeniably one of the most well known venues is the Orlando Museum of Art. More specifically, OMA's award-winning 1st Thursdays, which takes place (understandably enough) the first Thursday of every month.

Known as "Orlando's original art party," 1st Thursdays has a different theme each month, and local restaurants take turns selling food. You can also buy wine, beer and soda; but, don't waste your time scouting for the merlot or pinot noir — only white wine is allowed at the award-winning event. Something about the white marble floors? Luckily, I happen to also be a champagne lover, so I was able to adjust for this unexpected complication.

Speaking of, 1st Thursdays is, for the most part, a fundraising event, and everything has to be paid for in cash. It's $10 for admission and $5 for drink tickets. Food samples range in price. As a serial debit-card-only kind of girl, this meant my options were running across the street (in the pouring rain, of course) to the ATM at the Orlando Shakespeare Theater or writing a check. Lesson learned — always keep a check in your wallet for emergency purposes. Drink tickets of course constituting an emergency.

The stormy Orlando evening I attended 1st Thursdays, it was the Florida Artists Registry Member Exhibition for local artists who are members of ArtistsRegistry.com. The exhibit included work in all mediums, and attendees could vote on their favorite piece.

 


Orlando Museum of Art's 1st Thursdays includes pieces in all mediums.

 

Even with the rain, the event was packed. And in addition to the 1st Thursdays artwork, you could also walk through all of the museum's other exhibits. There was live music; and, as a total theater geek, I was super excited OMA was hosting a preview of the musical Disenchanted, which will be at The Abbey from Sept. 19-Oct. 27, 2013. (Snow White, you were awesome!) Not gonna lie, that was the highlight of the evening, and I've already penciled in a visit to see the full show. It dominated at the Fringe Theater Festival and is headed for Off Broadway. Definitely something to include in your plans for September or October.

Our dinner and dessert selections were provided by Maxine's on Shine, a great restaurant located off Livingston Street. Kind of like the reverse of beat-the-clock happy hour, the later in the night, the cheaper the food. But even full price it was a great deal.

 


Food was provided by local favorite Maxine's on Shine.

 

Even if you don't love art or wine or beer or soda, 1st Thursdays is like a rite of passage for anyone living in Orlando. It's something you have to do. Otherwise you'll undoubtedly get caught in one of those awkward situations where everyone is talking about it, and you don't know anything, so you just sit there and smile and pretend like you're following along. I hate when that happens.

The remaining 1st Thursdays for 2013 are Eclectic Knights V on Sept. 5, Ghostly Encounters on Oct. 3, The Art + Science of Healing on Nov. 7, and Art Under $200 — 'Tis the Season (that's my kind of art event!) on Dec. 5. If you're looking for a staple "to do in Orlando," this is it. Just don't forget your cash. Or, if you do, hope you have an umbrella.

 

The Supporting Actors ...

The success of Orlando Museum of Art's 1st Thursdays is due in part to the restaurants and other arts organization that participate in this monthly Orlando staple. To them, we give our thanks.

Maxine's on Shine is an awesome neighborhood restaurant that's been recognized more than once by Orlando Magazine's Dining Awards. The menu is broken down into Opening Acts and Maxine's Mainstage, but it's the impressive wine and beer lists that are the real stars at this fun, eclectic eatery.

The Abbey will host performances of Disenchanted from Sept. 19-Oct. 27, 2013. A musical about angry princesses who want to tell the truth about "happily ever after," Disenchanted is the winner of the Orlando International Fringe Theatre Festival's Producer's Award and is headed to Off Broadway.