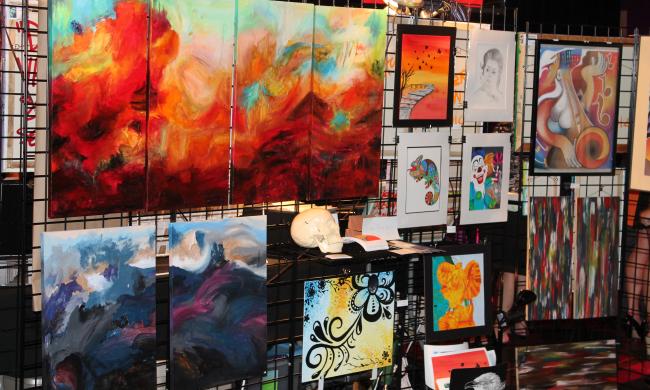 No RAW Deal Here
It's a random Thursday night in Orlando, and hubby and I just finished dinner at Sonoma Draught House in the Eola Square District. What to do now?? Coincidentally, right around the corner is The Abbey, and it's hosting RAW:Natural Born Artists! Why not?

Actually, I purchased my tickets in advance; but still, I noticed lots of people who walked by, asked what was going on, and decided to pay the reasonable $15 to stop in. (It's only $10 if you purchase your ticket online).

I'd decided about a week ago to make a night of it — try out Sonoma for dinner (I'd only ever been there for Sunday Funday) and walk over to The Abbey after. I'd heard great things about the event, which is held once a month.

RAW:Natural Born Artists is an international independent arts organization that showcases indie artists, photographers, designers, makeup artists, singers, filmmakers — you name it — in more than 50 cities in the U.S. and Australia.

RAW:Orlando is held at The Abbey, and this month about 20+ indie artists participated. It's 21-up, and the dress is cocktail attire; but I'll be honest, I spotted some very not-even-close-to-cocktail-attire outfits (I'm looking at you men in jeans).

When you walk in, the bar is immediately to your left. Drink specials included discounted PBR cans, so the husband was instantly happy. We grabbed our beverages and started looking around. A lot of paintings, prints and abstract art were near the front. All of the artists had pretty decent displays, and everything was for sale. It was really a great selection.

An independent film was playing on TVs throughout the venue; and models displaying work from local designers were walking around posing for pictures. Further into the venue were more artists displaying photography, paintings, glass art and prints. A rack with more dresses was toward the back. Onstage, someone was warming up with a guitar.

 


Models display dresses by local designers.

 

Apparently I didn't do my homework properly, because I was pleasantly surprised to see that Evan Taylor Jones would be performing. My husband and I have seen him play a few times at Splitsville Luxury Lanes at Downtown Disney, and we think he's absolutely great. After his set, we talked to him for a little while (super nice and humble guy!), and bought his CD for $10. Tip — don't buy his stuff on iTunes. His new stuff isn't available yet and is way better. (His words, not mine!) He has another single and CD coming out, and I highly recommend you check them out! He currently performs live at various venues all over the U.S., and I really think one day he's going to make it big.

 


Every genre and style of art is welcome at RAW:Natural Born Artists.

 

We made one more lap to make sure we didn't overlook anything, and for the millionth time my eyes went back to two jumbo prints of a mushroom and Yoshi from Super Mario Bros. I talked to the artist, Mark Gil Perez, and he had smaller versions for sale! I bought the two I loved, and he promised he was working on Princess Peach. Yay! I got his card so I could complete my collection when he's done.

All in all, it was a really cool evening. I'm sure the experience could be hit or miss, depending on the artists who are featured that month; but as far as September goes, it was a total hit.

The next RAW:Orlando will be held Oct. 3, 2013, from 8 p.m.-midnight. It's only $10, drinks are cheap, you're supporting local artists, and it's something neat and different to do in Orlando. And if the artists are more of a miss that month, there's tons of great restaurants and bars in walking distance. It's a win-win!

 

Before or after you buy some art ...

Mucho Tequila & Tacos is walking distance to The Abbey and has fresh Mexican food and more than 130 tequilas.

WildSide BBQ Bar & Grille is a little bit longer of a walk, but still not bad at all! The family-friendly restaurant and bar has a great happy hour, and selection of shareable appetizers, burgers, sandwiches and more.