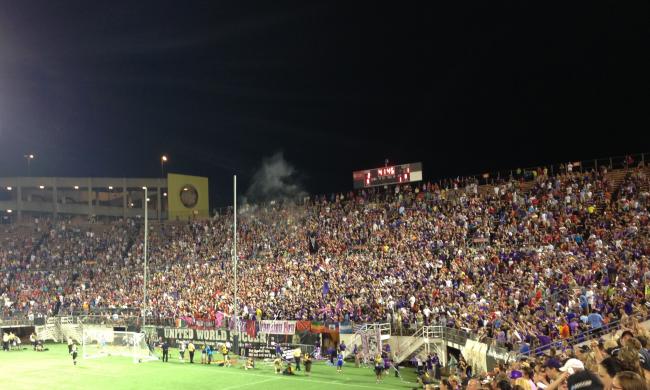 Orlando City Soccer Club Wins the USL PRO Championship
More than 20,800 fans were in attendance at the Florida Citrus Bowl to watch the Orlando City Soccer Club Lions defeat the Charlotte Eagles and win the 2013 United Soccer League PRO Championship for the second time in team history.

Contributing to the final score of 7-4 were crowd favorite Dom Dwyer, who scored a single-game record of four goals; Dennis Chin, who recorded two goals; and Christian Meza, who put one goal in the net. The seven-goal mark tied the club's all-time single scoring record, which was set earlier this year against Antigua Barracuda Football Club.

 


The Orlando City Soccer Club defeats the Charlotte Eagles 7-4 to win the USL PRO Championship in Orlando.

 

The 20,886 attendance mark shattered the previous Lions record of 11,220 that was set in 2011 at the USL PRO Championship. In addition to nearly selling out the lower bowl, upper bowl sections were released just days before the game to accommodate the high demand for tickets. The attendance also set a new USL PRO record.

"To play in front of more than 20,000 tonight was amazing," said head coach Adrian Heath. "It's a little surreal, because I've never been involved in a game like that in my life."

The energy and intensity of the crowd was unmatched by any game before it. Streamers, smoke, cheering and banging drums accompanied every Lions goal, and the crowd remained on its feet for most of the game, especially the exciting conclusion. And, after scoring his record-setting fourth goal and being subbed out of the game, Dwyer received an incredible standing ovation from the hometown fans.

After the championship win, fireworks lit up the night sky over downtown Orlando.

With the passion and dedication of the Orlando players, coaches and record-breaking fans, it's no wonder the words Major League Soccer have been mentioned in office hallways and around water coolers all across the city. If there was any doubt before, it's gone now; Orlando is a soccer town.