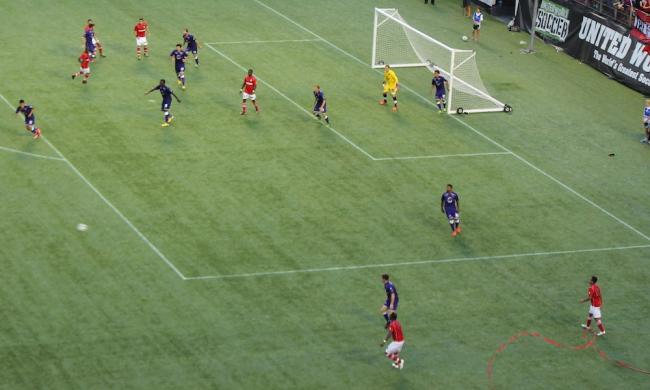 We Are the Champions
Professional sports in Orlando. Yep, we have the NBA's Orlando Magic. And the Orlando Predators, two-time Arena Football League champion. But the real drama, the real show, is in soccer. And Orlando is fortunate enough to be home to the Orlando City Soccer Club. Soccer — the world's most popular sport; Orlando City — 2011 USL Pro champion and 2012 regular season champion. Basically, we can claim the best team in the league in the most popular sport in the world. That's absolutely worth a visit to the Florida Citrus Bowl Stadium in downtown Orlando.

I'm a huge soccer fan. Nothing makes me more annoyed than when a game is decided by penalty kicks; nothing makes me call in to work like the U.S. playing a World Cup game; nothing gets me more frustrated then when someone takes an obvious dive and another player gets a card because of it; and, most importantly, nothing makes me scream and cheer louder than when the U.S. wins — especially when we're the underdog. Landon Donovan. 2010 World Cup. Defeating Algeria 1-0 in the 91st minute. Epic. 

 

 

There are select cities in the U.S. where you can watch drama like that unfold live and in person, and Orlando is one of the blessed few. Thanks to The Ruckus and Iron Lion Firm — Orlando City's largest supporters groups — every game is guaranteed to be entertaining from start to finish. There's smoke, screaming, singing, flags flying, cow bells clanging, scarves waving, drums a banging. Winning or losing, the fans are making lots and lots of noise. Watch a Premier League game between Chelsea Football Club and Arsenal Football Club and you'll see what I'm talking about.

I was fortunate enough to attend a July game, where I watched Orlando City completely and thoroughly decimate the Charleston Battery. It was good night. Prior to the game, everyone was entertained at the MetroPCS Fan Zone; new merchandise was unveiled, so people were shopping; and fans feeling lucky were getting in on the 50/50 drawing, which benefited the Orlando City Soccer Foundation.

During the game, the vast majority of the lower bowl was packed (and loud). It was sometimes easy to forget the action on the field and just watch the craziness taking place in sections 120 and 121, home to The Ruckus and Iron Lion Firm. Now, in the interest of full disclosure, some of the songs and chants from these end zone sections can be slightly vulgar and may contain words you don't want your 6-year-old repeating. However, those instances are few and far between, and as long as you sit near centerfield, you should be OK.

 


Orlando City Soccer Club games are entertaining, wild and some serious fun — an absolute "must-do" for any Orlando resident or visitor.

 

Orlando City set the tone with the first goal, and outplayed the Battery for the remainder of the game. Final score: 2-1. (In soccer, this is decimating.)

After the game, the players signed autographs on the field, and Harry Buffalo on Church Street in downtown Orlando hosted the post-game after party, complete with drink specials. Everyone went home happy!

Orlando City finishes up its regular season Aug. 17, 2013, with the next season kicking off in February. Tickets start at just $15 per game, so of all the things to do in Orlando, this ranks as one of the most cost-effective. And fun and different. The team — which is tied for most wins — also has a great social media presence. Even if you can't get to a game, follow them on Twitter (www.twitter.com/OrlandoCitySC) for minute-by-minute updates.

But please, if you're looking for something new to do in Orlando, don't pass up the chance to cheer on some champions. You haven't quite lived until you've yelled "Gooooaaaaaaalllll" at the top of your lungs, or chanted "olé olé olé," or sang along to the Orlando City version of I Will Follow You. Unless you're 6. In which case, scratch that last one.

 

Get in the game

Soccer isn't the only professional sport to call Orlando home. No matter the time of year, there's a pro team calling your name, reserving your seat, and keeping your hot dog warm and favorite drink on ice.

The Orlando Magic's regular season runs from late October-April, with the postseason playoffs held April-June. The NBA team plays at the state-of-the-art Amway Center, undeniably the most awesome sports and entertainment venue in Orlando AND the U.S. After watching the Magic add another check in the win column, head upstairs to ONE80 Grey Goose Lounge for a celebratory cocktail and unparalleled views of downtown Orlando.

Arena Football League's Orlando Predators claim the floor at the Amway Center from March-July, with this year's ArenaBowl scheduled for Aug. 17, 2013, at (where else?) the positively perfect Amway Center. Throw on that black and red, and get ready for a wild party of a time as you cheer on this two-time AFL champion.