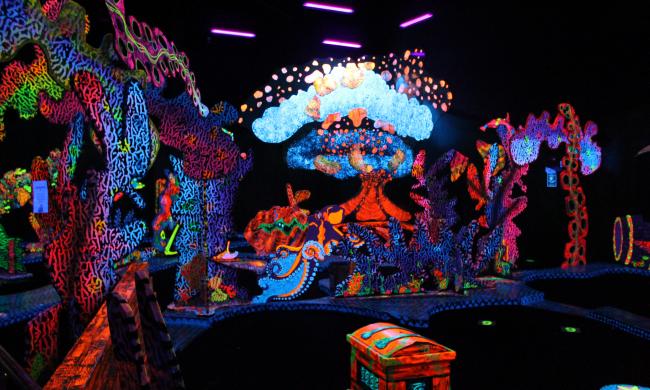 The Proof is in the Putting
There is no shortage of miniature golf courses in Orlando. There's at least six putt putt places on International Drive alone, Walt Disney World Resort has two courses, and Universal CityWalk has the new Hollywood Drive-In Golf. Besides a brightly colored ball, rubber putter and quirky obstacles, there's one more thing all of these attractions have in common — they're outside.

In the intense heat of the summer or cold heat of the winter, or during one of the typical Central Florida afternoon thunderstorms, where are you supposed to go for your putt putt fix?!

Fear not my fellow mini golf lovers! Festival Bay Mall at the far north end of International Drive is home to Putting Edge, a glow-in-the-dark mini golf course and arcade. Unlike the vast majority of businesses in this fairly-new-for-Orlando mall, Putting Edge has stood the test of time. (Cinemark and Bass Pro Shops are also holding strong!) And I figured, what better to do on a sweltering, humid, storm-clouds-are-gathering afternoon than to hit the indoor links and see how this particular Festival Bay tenant has defied the odds. Luckily for me, my fabulous TO colleague Jessica agreed to join me for a friendly round of competition at the 100% indoor attraction.

Putting Edge is located by the movie theater, right next to one of the mall entrances. If you visit near opening time like we did, chances are pretty good you'll have the place mostly to yourself.

You can hear the music before you even get inside. But it's not too loud! It's fun, upbeat background noise — a mix of Top 40 hits. I caught myself singing along more than once. The front is full of arcade games (and air hockey!), and there's a private birthday/event area to the left.

After you've paid, you get to pick your super bright golf ball and putter (different lengths are available), and then you get a glow-in-the-dark bracelet that matches your ball! It's the little things that make me happy. :)

 


Just waiting my turn. :)

 

We got a rundown of the rules, grabbed our scorecard and trivia sheet, and we were on our way to some hole-in-one fun!

Oh yes, my friends — trivia sheet. I. Love. Trivia. Looovveeeee. I don't know whose Putting Edge idea it was to have a trivia question at each hole, but Brava, Brava!

Allow me to digress from the entire point of the afternoon, which is the tremendous appeal of indoor putt putt, and talk about the trivia portion of the day.

Question 1: What planet is Superman from?
Krypton, duh!

Who is 007? How many pins do you have to knock down for a strike in bowling? When the cow jumped over the moon, who did the dish run away with? What's the largest mammal? Who interrupted Taylor Swift at the VMAs? What country is also a continent? In what movie did Jim Carrey play Stanley Ipkiss?

Bam bam bam, I knew them all! OK yeah, I think maybe an advanced sixth-grader could have gotten them all correct. Then there was a question about the TV show The Big Bang Theory. I don't watch The Big Bang Theory! Nooooooo! So obviously I got that one wrong. In an effort to earn bonus points, in addition to listing the number of members in the group Spice Girls, I also wrote down all of their names — Spice ones and real ones! The very nice woman running the place had a good laugh, but alas, no extra points. We still got prizes for our more-than-stellar score though!

Ok, back to mini golf. To switch it up a little, six holes had random crazy rules, such as no touching the carpet (you had to balance on the obstacles), hit the ball with the handle of the putter (like you're shooting pool), and no putter allowed (you have to kick the ball like soccer). Boy did I like those tricky little holes.

Approaching the final hole — the only par 2 on the course — I was at a respectable 53, and Jess was at 46 (I swear she moonlights as a putt putt instructor). But it was Diana who had the last laugh, as she sailed her way to a hole-in-one on 18! Ha! No need to mention Jess' multiple holes-in-one or that she destroyed me by five strokes. It is I who ended on the high note!

 


Can you see us now?

 

Next on our list of "friendly competition" things to do in Orlando is Air Dodgeball at Rebounderz on International Drive (six players per team, double elimination, winning team gets $225 cash!) and laser tag at Hard Knocks at Pointe Orlando. But really, calling it laser tag is like calling the NFL a rec league. You have four battleground arenas to choose from, 20 different weapons in the armory, thermal combat options, and more than 70 missions to choose from. It's pretty serious stuff. I'm gonna have to bring my A game.

Ha! That was a joke. As if I have any other kind of game.