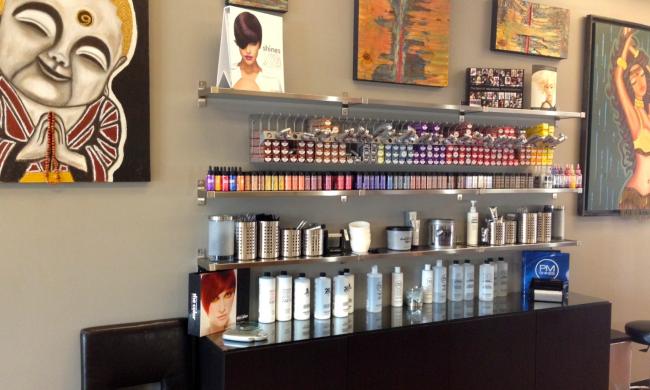 Valentine's Day Gifts, Part 2
Call me indulgent, but, as I stated in a previous Things to Do in Orlando blog, I am a firm believer in the power of a blowout. You look great, you feel great, you get some quality time with your favorite stylist, and a quality glass of pinot noir. Yep. A blowout is the salon experience without the foils, dryer and freakout when your beloved stylist says she needs to cut four inches of dead ends.

This Valentine's Day in the bold and beautiful Orlando, the blowout can be extra special. Men, imagine the look of awe and gratitude when you gift your true love with a blowout b her favorite salon, and you were even considerate enough to make an appointment for February 14. You thoughtful gentleman you, how sweet are you to know that she would love to show off that great blowout at a romantic restaurant chock full of other couples (aka, women who will appreciate how awesome her hair looks).

Finding the perfect salon is a lot like dating, but with way more risk! I mean, what if someone dyes your dark locks orange after a botched bleach attempt?! Or your "fashionable layers" look more like the mushroom men from Super Mario Bros.?!

If you live in east Orlando or are a Parker — College Park, Winter Park, Thornton Park — then I must insist you visit Elle Vie Salon in Winter Park's fabulous Hannibal Square. I promise this is one date that will end with a giddy hug and promise of future dates to come. Owned by the delightful and über talented Luisa Valdes (a fellow Dr. Phillips High School alumna!), Elle Vie is a Paul Mitchell Focus Salon, and I can assure you Luisa's training and skills are extensive.

Now, what kind of resource would I be if I didn't personally experience a blowout at the hands of the beautiful Luisa prior to proclaiming her mastery? So, just in time for a fun-filled dinner of my own, I stopped by the salon for a wash, blowout and split-end cut (more on that later!).

It all sounds so simple, but I assure you the experience was anything but! After a brief consultation about volume, curl vs. straight, part preferences, etc., it was off to the washing area. The shampooing and conditioning were great, but here's the really fun part — Luisa gives a wickedly good scalp massage. That alone is worth every penny of the blowout! Less than an hour later, I walked into the gorgeous Winter Park sunshine feeling like a million bucks from the scalp up, and with a burning desire to apply fresh makeup and change into something more worthy of my professionally styled hair. Such a great feeling.

 

Maintain your look at home with professional products! The Paul Mitchell dry shampoo and Hot Off the Press thermal protection hairspray are divine.
 

Back to the split-end cut. This was a new one for me. Luisa is trained in cutting split ends throughout your hair, not just on the ends. In fact, she didn't cut any length off my hair at all. She utilized a fascinating technique that I can't even begin to explain, so luckily she posted a handy video on her Instagram page - click here for handy video! The end result was that my hair looked and felt completely different, but in a great, way more healthy way. Super smooth, with no little crunchy or brittle parts. Incredible.

Now for the even better news my gentleman readers! (If I didn't lose you at split-end cut?) Elle Vie Salon is offering February specials! If you purchase five blowouts — I promise she will use every single one! — your lady gets a free haircut. Or, if you know your significant other is looking for more of a total makeover, for just $75 she can receive color, style and makeup.

Remember, the salon experience isn't just about the physical cutting, coloring and blowing dry of your lady's locks, it's about the fresh beverage you sip, pampering you receive, and phenomenal feeling you have as you leave with your new look. Give your true love a little pep in her step this Valentine's Day with a gift that keeps on giving, long after the Paul Mitchell Professionals Neuro Dry with premium IsoTherm titanium barrels has finished smoothing her luscious locks.