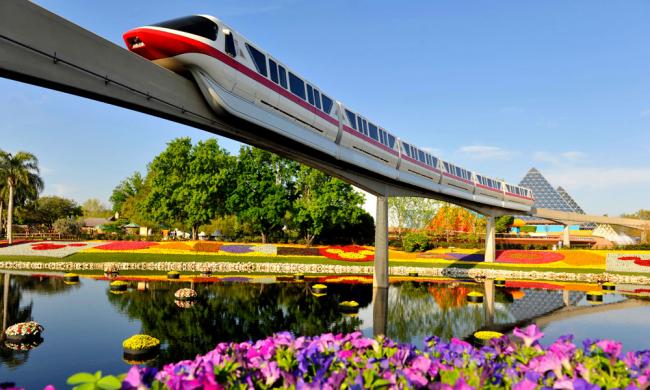 Epcot Flower & Garden Festival
March 5th - May 18th, 2014

at EPCOT

Look for the 18-story geodesic sphere.

1320 Avenue of the Stars, Bay Lake, 32830
The Epcot International Flower & Garden Festival will be taking place at Epcot from March 5th through May 18th. The festival features beautiful topiary displays, live entertainment, HGTV personalities, seminars, outdoor kitchens, and gardening galore around the World Showcase at Epcot. Flower & Garden experts are ready to share their secrets with guests.

There will be a gorgeous bouquet of home and garden celebrities present at the 2014 festival to share some tips. Attend a session from 12:00 p.m. and 3:00 p.m. at the Designers' Stage with people like Vern Yip, an award-winning architectural and interior designer featured on HGTV's Design Star, TLC's Trading Spaces, and HGTV's Deserving Design. Other stars at the Epcot Flower & Garden Festival include Chris Lambton from ABC's The Bachelorette and HGTV's Going Yard, Matt Blashaw of the DIY Network and HGTV's Vacation House for Free, Matt Muenster of DIY Network, and Taniya Nayak from HGTV's House Hunters on Vacation, Destination Design and Designed to Sell. Additionally, there will be talks led by Amy Matthews, John Gidding, David Bromstad, Chip Wade, and Alison Victoria.

Flower displays featuring regional blooms will be set up in the World Showcase. See exotic plant life like orchids from Mexico, Bonsai from Japan, and a tea garden from England. Special tours of the garden are available for an additional price, including guided 20-minute tour of the elegant English Tea Garden, featuring some of Twinings finest tea blends.

Speakers will be giving out free tips daily at the Festival Center. From 1:00 p.m. to 4:00 p.m., get gardening pointers from IFAS at the University of Florida as they present a daily assortment of topics and ideas to help your technique grow. From 11:00 a.m. to 5:00 p.m., Ask an Expert lets you ask any horticulture questions. Drop by daily at 11:00 a.m. and 2:00 p.m. to meet with gardening specialists as they share their knowledge at the Greenhouse Stage.

There will be lots of live entertainment for the family to enjoy at the 2014 Epcot Flower & Garden Festival. Their Flower Power music series features the best artists from the 60s, 70s, and 80s. See chart topping artists like the Village People and Alan Parsons Live Project bring a past era back to life with live concerts. The schedule for musical acts is as follows. Performers are subject to change.

2014 Flower Power Music Series
March 7 - 9  /  The Guess Who
March 14 - 16  /  Gary Lewis and The Playboys
March 21 - 23  /  The Orchestra starring former members of ELO
March 28 - 30  /  The Lovin' Spoonful
April 4 - 6  /  Paul Revere & The Raiders
April 11 - 13  /  The Village People
April 18 - 20  /  The Grass Roots
April 25 - 27  /  Herman's Hermits starring Peter Noone
May 2 - 4  /  STARSHIP starring Mickey Thomas
May 9 - 10 /  Chubby Checker & The Wildcats
May 16 - 18  /  Alan Parsons Live Project

The 2014 Epcot Flower & Garden Festival is fun for adults and children. Kids of all ages will love the topiary displays featuring their favorite characters and scenes from movies like Disney Pixar's Cars and Monsters University. At Tinker Bell's Butterfly House, kids can see a variety of butterfly species as they fly from flower to flower. They'll even see fairy houses and caterpillars spinning a cocoon to prepare for their transformation. The is also a a Backyard Play Garden and Garden Passports that children can get stamped throughout the festival.

Lastly, don't forget to try some delicious garden-fresh foods from the outdoor kitchens located throughout the Epcot International Flower & Garden Festival. Try local produce from Florida, seasonal dishes at Hanami in Japan, satisfying tacos and fruity cocktails at Mexico, and culinary delights from France. These and many more vendors will be offering great eats throughout the park for visiting foodies.

Admission to Epcot is required. While most Epcot Flower & Garden Festival events are included with admission to the park, many experiences require a separate purchase or a separate admission fee. Availability is limited for some experiences. Events may be rescheduled or cancelled at any time.

The 2014 Epcot International Flower & Garden Festival will be held at Epcot in Walt Disney World. For more info on Epcot, view its profile page here.
Upcoming Events
that also might interest you