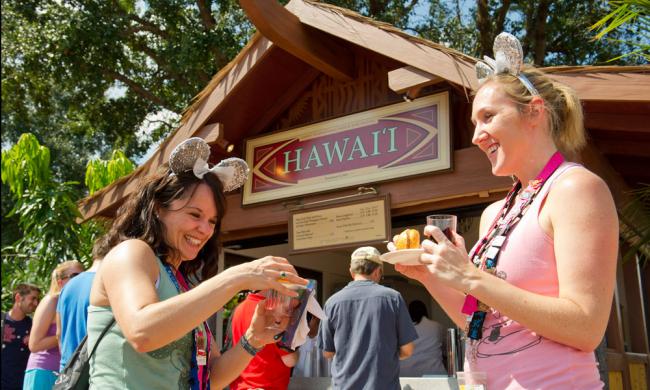 EPCOT Food & Wine Festival
September 27 - November 11

at EPCOT

Look for the 18-story geodesic sphere.

1320 Avenue of the Stars, Bay Lake, 32830
The EPCOT International Food & Wine Festival is a 46-day multi-cultural showcase of the best dishes and drinks from around the globe. It gives countries not regularly represented at EPCOT a chance to show off their culinary prowess, and the more-than-a-month long event features celebrity chefs, special concerts, seminars and food & wine experiences.

Some international vendors you won't regularly see at EPCOT include Belgium, Poland, Argentina, Brazil, Greece, New Zealand, Singapore, and South Korea. New to the festival this year is Scotland! There will also be a special Florida vendor with state specialties including Key Lime Wine.

Celebrity chefs who will be featured include Warren Brown, Paula DaSilva, Jamie Deen, Emily Ellyn, Duskie Estes and John Stewart, Gale Gand, Rock Harper, Jeff Henderson, Robert Irvine, Dean Max, Art Smith, Allen Susser, "Cake Boss" Buddy Valastro, Bryan and Michael Voltaggio and Bizarre Food's Andrew Zimmern.

Musical acts who will be performing during the fest are Wilson Phillips, The Go-Go's, Edwin McCain, Manhattan Transfer, Spin Doctors, Christopher Cross, and returning bands The Pointer Sisters, Smash Mouth, Boyz II Men, Sister Hazel, Air Supply, Hanson and Big Bad Voodoo Daddy.

Premium seminars and activities are open to reservations and may require an additional fee. There will also be Party of the Senses grand tasting events featuring elegants cuisines and more than 50 wines and beers with live entertainement. Party of the Senses dates are Oct. 5, 12, 19, 26, and Nov. 2.

Other premium events include a Parisian Breakfast on Sundays, "3D" Disney's Dessert Discovery on select Fridays, and Cheese Seminars on Saturdays. The Cranberry Bog returns for its third year in Future World to present families with cranberry cultivation and its rich history. Restaurants around the Lake Buena Vista area will be offering signature dining experiences starting at $90 per person.

The EPCOT International Food and Wine Festival Presented by Chase will be Sep. 27 through Nov. 11 at EPCOT. For more information on Walt Disney World's EPCOT, view their profile page.
Upcoming Events
that also might interest you