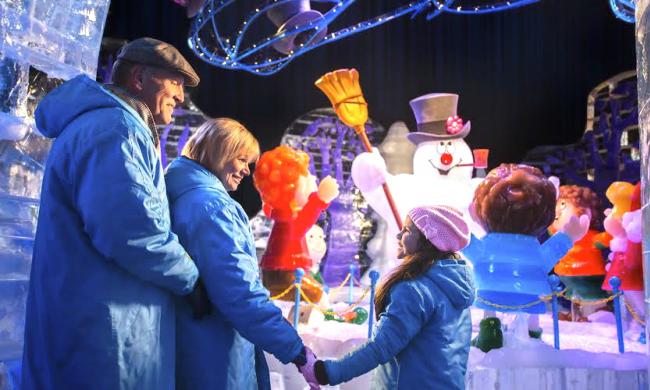 ICE! at Gaylord Palms
Nov. 23 - Jan. 5

6000 West Osceola Parkway, Kissimmee, FL, 34746
ICE! is an award-winning attraction for families located at Gaylord Palms. It features fantastic ice sculptures carved by a team of 40 artisans from Harbin, China. Harbin is best known for its annual International Ice and Snow Festival, where more than 2,000 sculptors annually carve a 100-acre walk-through ice park, using ice from the nearby Songhua River.The talented artisans spend more than a month in Kissimmee/Orlando creating an ice wonderland, this year starring everyone's favorite Christmas classic, Frosty the Snowman.

ICE! has more than two million pounds of hand-carved ice sculptures and four ICE! slides that visitors can slide down. The ICE! exhibit is 9 degrees in order to protect the ice art. Calf-length hooded jackets are provided, but it's recommended that visitors wear warm clothing. Long pants and close-toed shoes are required, hats and gloves are recommended. Cameras are allowed at ICE! and pictures are encouraged.

Besides a number of discount rates for online purchases, groups, and Florida residents, ICE! also has a special VIP tour that includes all day admission, instant access to ICE!, a guided tour through the attraction, and a behind the scenes look. VIP guests will meet and greet and have a Q&A with a Chinese artisan, as well as enjoy one free hot chocolate per participant. You'll even receive a souvenir photo and a 11-inch by 17-inch print featuring ICE! conceptual art (one per group) to remember your exclusive tour.

Hours of operation for the ICE! exhibit varies. It's open everyday at 10 am, closing at either 8:30 pm or 10 pm on weekdays, and always at 10 pm on Fridays and Saturdays. Check their calendar for specifics.

ICE! with Frosty the Snowman will be at the Gaylord Palm in Kissimmee from November 23 - January 5.
Upcoming Events
that also might interest you