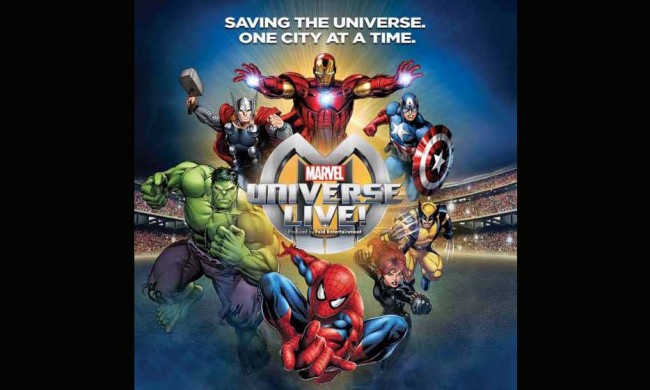 Marvel Universe Live!
Located on Church Street just west of I-4.
400 W. Church St., Orlando, 32801
(407) 440-7000
(800) 745-3000
Marvel Universe LIVE! is a live show experience with mind-blowing stuns, action, special effects, pyrotechnics, martial arts, and more. Watch more than 25 of your favorite Marvel Super Heroes including Spider-Man, Iron Man and Hulk, and threatening villains like Loki, Red Skull, and the Green Goblin.

Marvel Universe Live features an original story line, and it's being hailed as the most technically advanced live show ever. The story is framed around the battle over the Cosmic Cube, the source of ultimate power and one of the most feared and coveted treasures in the Marvel Universe, that has been shattered into pieces by the Mighty Thor in order to prevent it from falling into the wrong hands. With the pieces scattered across the globe, Thor's villainous brother Loki devises a scheme to clone its powers, inciting a threat that could not only decimate Earth but also obliterate the Universe. To defeat Loki, Marvel's biggest super heroes must band together, including The Avengers – Iron Man, Captain America, Hulk and Thor along with Spider-Man and Wolverine, and trek across the globe to retrieve the Cosmic Cube fragments and unite them.

Join Marvel fans of all ages for this exciting live show. Feld Entertainment, the people behind the show, have produced other inspiring performances including Disney On Ice and Nuclear Cowboyz.

Tickets to Marvel Universe Live! in the Amway Center are on sale and start at $40.00, going up to $120.00 for VIP tickets.

Marvel Universe Live! will be held on Friday, Dec. 5 through Sunday Dec. 7 at the Amway Center in Downtown Orlando.

Showtimes
Dec. 5  /  7:30 p.m.
Dec. 6  /  11:00 a.m.
Dec. 6  /  3:00 p.m.
Dec. 6  /  7:00 p.m.
Dec. 7  /  11:00 a.m.
Dec. 7  /  3:00 p.m.
Dec. 7  /  7:00 p.m.

Tickets are on sale now online, by phone, and at the box office. All tickets to this Orlando show are subject to applicable taxes, service, handling and facility fee charges.

For more info on the Amway Center, view their profile page.
Upcoming Events
that also might interest you