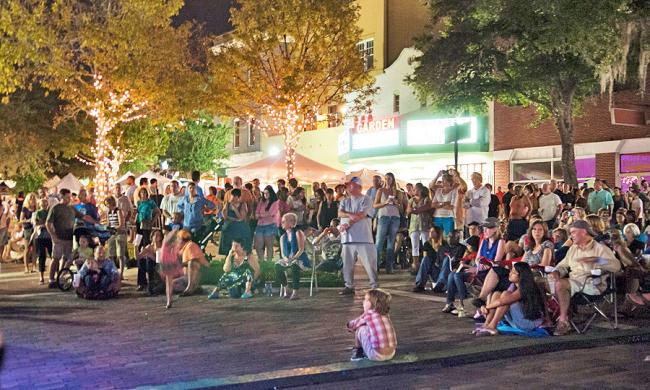 Winter Garden Music Fest
Oct. 4 - 6, Check description for times.
In Historic Downtown Winter Garden, along Plant Street.
Plant Street, Orlando, FL, 34787
The Winter Garden Music Festival is 3 days of free music for the whole community. There will be beer and food vendors set up, more than 100 arts and crafts artisans selling their wares, and the family-friendly KidsFest with plenty of activities and fun.

This is MusicFest's 8th year in Winter Garden, with the event attracting tens and thousands of locals and visitors annually. See one of the most diverse selections of Central Florida performers, including unique music genres like Country, Jazz, Blues, Americana, Classic Rock, Southern Rock, Blue Grass, Alternative, Pop, Folk, Classical, Opera, Musical Theater, Choral, R&B, Zydeco, Native American, Japanese, African, and Celtic.

The event is both indoors and outdoors and features more than 30 unique acts. There will be three stages: the Bright House stage at the corner of Lakeview Avenue and Plant Street, the TD Bank stage at the corner of Main and Plant Streets, and the Garden Music stage on Boyd Street at Tremaine.

Acts run on Friday from 6:15 pm - 10:30 pm, on Saturday from 12 pm - 10:15 pm, and on Sunday from 12 pm - 4:30 pm. Proceeds from the event will fund the local cultural efforts of the Winter Garden Heritage Foundation. The Winter Garden Heritage Foundation runs the Heritage Museum, Central Florida Railroad Museum and the West Orange History Research and Education Center.

Attic Door, al Fresco, Moon Cricket Grille, Pilars Martini, the Tasting Room and Urban Flats will all have live music. Plus, The Garden Theatre will  have their regular showings of Nunsense. Also, the Instrument Discovery Center inside the Garden Music School at 40 S. Main St. will be open to guests, so make sure to stop by.

Free parking is available all throughout Winter Garden. There will also be valet parking on Plant Street just west of Dillard. Valet parking is $7 before 6 pm and $10 after 6 pm, with an unlimited pass available for $25. There will also be parking at Dillard Street Elementary School and Veteran's Park with a shuttle running from Veteran's.

MusicFest will be held in in the heart of Downtown Winter Garden.
Upcoming Events
that also might interest you