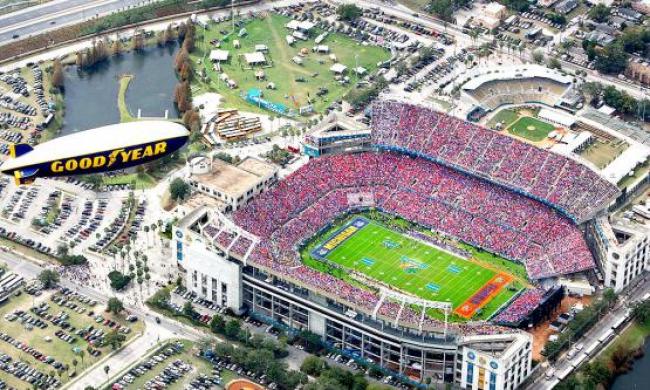 10,000+ Tickets Sold for USWNT Soccer Match in Orlando!
On Nov. 10, 2013, the Florida Citrus Bowl Stadium will host the No. 1-ranked U.S. Women's National Team as they face Brazil in front of more than 10,000 fans. Ticket sales for the soccer match passed 10,000 less than four days after going on sale to the general public.

This is the final game of the 2013 schedule for the USWNT, which has pulled in more than 10,000 fans for every single home game this season. For the Orlando match, tickets have been sold to fans from 32 states, Puerto Rico, and four foreign countries.

The No. 1-ranked U.S. and fourth-ranked Brazil haven't faced off in the United States since 2008, when the U.S. won 1-0. The women also defeated rival Brazil at the Beijing 2008 Olympic Games, winning the gold medal.

The Citrus Bowl hasn't hosted the USWNT since 1999, when the U.S. faced — wait for it — Brazil! The U.S. won 3-0, and during the historic match, superstar Mia Hamm broke the international scoring record. Well, that was until last June, when the record was once again broken by a U.S. megastar — striker Abby Wambach scored four goals during the friendly against South Korea, setting the new record at 160.

U.S. vs. Brazil kicks off at 3:30 p.m. and will be broadcast on NBC. Fans can follow the match through ussoccer.com's MatchTracker and on Twitter at @ussoccer_wnt.

It's not too late to purchase tickets! They're available through ussoccer.com, by phone at 800-745-3000, at all Ticketmaster centers in Central Florida, and at the Amway Center box office. No tickets will be sold at the Citrus Bowl until the day of the game. Don't miss this chance to see the No. 1-ranked USWNT, including Wambach, Alex Morgan, Megan Rapinoe and Hope Solo.

USA! USA! USA! USA!