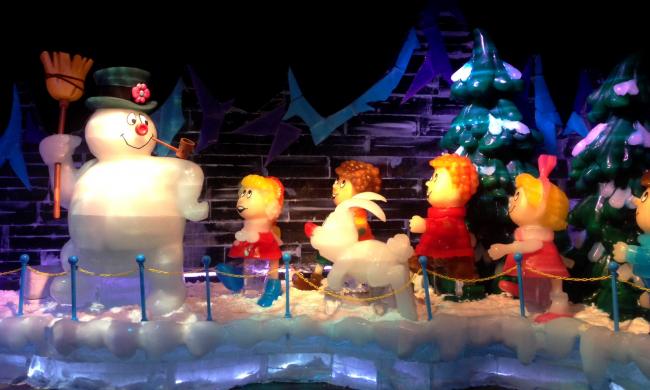 Baby, It's Cold Inside
ICE! At Gaylord Palms is one of those seasonal attractions you HAVE to visit. I mean, if you live in Florida, where else do you get to experience 9-degree temps?! The gist of ICE! is that it's an indoor attraction that features ginormous ice sculptures that are kept at a crisp 9 degrees, and you walk through and admire them. It's really freakin' cool! No pun intended. And totally has a permanent place on my holiday Things to Do in Orlando list.

This year's theme is Frosty the Snowman. You know, the movie with Karen, the cute blonde girl who thinks Frosty is her best friend, and then he melts, and then Santa resurrects him every winter? Total classic.

 


This year's theme at ICE! is Frosty the Snowman. Come on, who doesn't love that holiday movie?!

 

Well, on this fine weekday, Jess and I visited the Gaylord Palms Resort & Convention Center in Kissimmee — that hotel is gorgeous! — and visited the holiday attraction. You start with a movie that explains how the attraction came to be. Ridiculously skilled artists from China come to the U.S. and work at all hours to create the ice sculptures from gigantic blocks of ice that have been pre-dyed. These blocks have been freezing one whole year in advance at factories in Texas, Ohio and Georgia. A single ice show at Gaylord uses about 6,500 blocks of ice, 59 percent of which are clear, and the rest are various colors.

Once you're done with the video, you go to the parka pit, where you get your super warm, very large, bright blue parka that covers you from head to ankles. You will come to love that parka.

You get a little pep talk about how cold it is and told where you can go if you need to escape and warm up, and then it's into the Arctic Tundra.

The show really is incredible. You walk through scene after scene from the movie, and it's perfectly depicted, allllll in ice. If you have kids, definitely take them! Whether they've seen the movie or not — I recommend showing them beforehand — I promise they will love it. But two words: Hat. Gloves. I remembered the first but forgot the second, and oh my goodness oh my goodness my hands were 100 percent numb and in-pain cold by the time I got out of the approx. 20-minute show. And then the thawing out?! Even more painful. Hat. Gloves.

Once you're done with the 9-degree amazingness, you exit into a shopping/eating area, where you can get snacks, coffee, hot chocolate, and lots of other fun munchies. You can also shop for almost anything Christmas related — ornaments, decorations, wreaths — you name it. The place smells like a little slice of holiday heaven.

OK, so I'm only going to say this one more teensy time: Go to ICE! because it's a really fun, unique attraction, and wow, you get to experience 9-degree weather in Florida. It's open until Jan. 5, 2014, so you have plenty of time. And don't forget a hat and gloves. Especially those dang gloves.