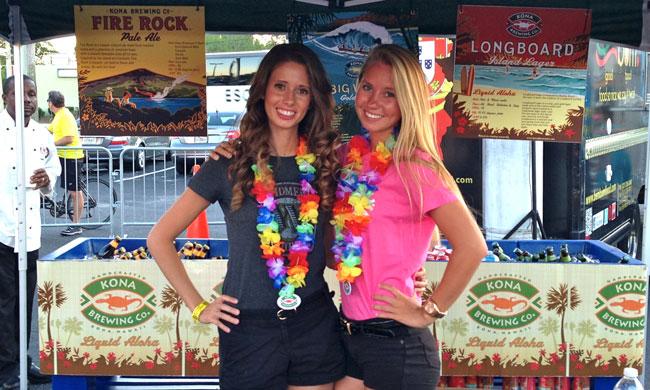 BIG Event, Small Breweries
All hail the rising popularity of craft beers!

What is a craft beer, you may ask? I just coincidentally happen to know that a craft brewery is an independent brewery with production of less than 6 million U.S. beer barrels that is not more than 24 percent owned by another alcoholic beverage company. (I read Wikipedia in my spare time.)

Craft beers are becoming more and more popular in the U.S., so of course it goes without saying that someone came up with the brilliant plan to dedicate a week to this specific genre of malt beverage. Makes sense to me!

American Craft Beer Week is celebrated all across the country. In Orlando, one of the best places to take part in the festivities is The Plaza Live in Colonialtown near downtown Orlando. Parking is free, admission is free, and beer costs a whopping $10 for 10 samples.

 

Beer tents and food trucks keep Orlando's craft beer fans happy.

 

Upon arrival, I showed my government-issued, valid ID that verified I am over the age of 21, the legal drinking age in Florida. I purchased my drink tickets, and made a quick lap to peruse my options. In the massive outdoor area were craft beer vendors, cocktail tables, corn hole (nothing goes with beer like a good tailgating game), and nine food trucks that varied from eclectic (ummm, what is that?) to traditional (tacos!) to fun (chicken and waffles!). Inside the lobby, there were more beer vendors and a restaurant serving fresh barbecue. Awesome.

There were simply too many great beers, conversations, foods and entertainment to describe everything in detail. So here goes my attempt at highlighting:

Indoors — Widmer Brothers out of Portland offered an awesome variety of beers, including the fun and unique Chocolate Russian Imperial Stout, and really cool Pitch Black IPA. Non-beer-related, the guy pouring the beer was really nice, down-to-earth and totally normal. We had a good chat. I'm pretty sure we'd be friends if he didn't live as far from Orlando as possible while remaining in the contiguous United States.

Omission offered the event's only gluten-free beer. You read that right — gluten-free. And the removed ingredient takes nothing away from the taste, as Omission's pale ale was hands down my favorite beer of the evening. Coincidentally, May is also Celiac Disease Awareness Month. (Shameless plug for a noble cause!)

Let's move it outdoors — Kona Brewing Co. offered my second favorite beer, and really all three of Kona's varieties were great. It was impossible to make a bad pick. Red Hook also didn't disappoint, and its IPA went wonderfully with my fresh tacos.

The food trucks were placed conveniently around the perimeter of the parking lot, giving guests a clear view of all their options. Thanks to the fantastic inventions of the Cube and Square, which allow merchants to process credit cards on their phones or iPad, most of the trucks accepted cash or credit. Gotta love technology - gone are the days of hitting the ATM to go to an outdoors event.

Live entertainment — Short and to the point: The Crazy Carls played a long set and were awesome. Bought their CD. You should too (thecrazycarlsmusic.com).

 

The Crazy Carls jam for craft beer festival-goers while a small fan entertains the crowd.

 

The crowd was fun and outgoing, and ranged from age 8-80. The kids danced, the adults (21+) drank, everyone ate, and even the handful of dogs in attendance were having a blast. There was something for everyone. The food was great, beer was great, people were great. Even the guy changing out the garbage bags was smiling and cheerfully saying hello. It was just a plain ol' fun night.

"But there has to be a negative," you say, with slight frustration. And you would be correct. Here's my negative — why is this event only once a year?! Something this awesome truly deserves 12 weeks a year. Heck, let's make it a baker's dozen. 13 weeks it is.

 

For the craft beer lovers ...

Orlando's dining and drinking establishments love their craft beer as much as you do. Check out these fine watering holes on your next trip Downtown or to I-Drive.

Tap & Grind is an incredible place to enjoy a beer. Their full-wall murals and awesome atmosphere make them a local favorite and a must-see when in Downtown Orlando. Don't forget to check out the bathrooms!

Frank & Stein's offers 300 craft beers regularly in this spacious Downtown Orlando hangout spot. Enjoy great good and the games you loved as a kid while sampling their vast beer selection. They have skee ball, darts, and board games, as well as wine and liquor.

The Pub has two "pour-you-own-beer" walls where you can select a beer, fill your glass, and pay by the ounce. Don't miss this International Drive marvel while you're in town.

Brick House Tavern & Tap boasts over 80 beers at their refined International Drive establishment. Leather recliners and 30 HD TVs make this a great place to savor a beverage and relax with friends.