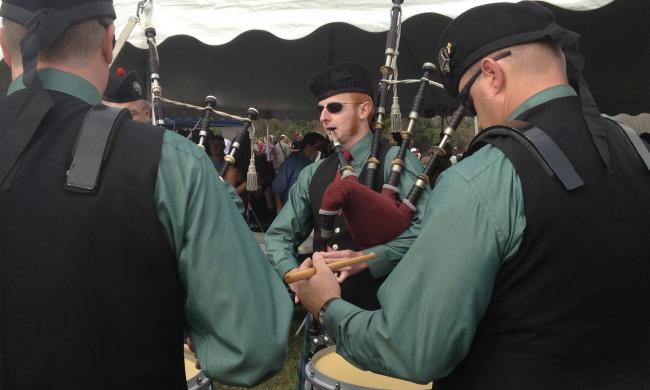 Celtic Spectacle
January is one of the best months to be in Orlando. Why? For many people, it's because for most of the month the temperature is in the 70s and ticket prices at Disney and Universal are cheaper. For me, it's because of the Central Florida Scottish Highland Games. If you're anywhere near Central Florida next weekend, clear your schedule and head to Winter Springs.

The Scottish Highland Games is a 2-day festival. There are unnecessary displays of physical strength, music, food, and lots of beer (really, really good beer). But there's so much more going on too.

 

Festival-goers can participate in a variety of activities, such as ax throwing.

 

First, the food and the music are great. There's no place at the games that you can't hear bagpipes and drums, but there's a special stage set up for Celtic musical acts that play all day both days. There's also vendors set up selling Scottish food that you can't find anywhere else, as well as familiar favorites like shepherd's pie and fish and chips. If you came for the games but aren't really interested in trying the haggis, there are commercial options like Tijuana Flats available for you.

No Scottish festival is complete without vendors selling various things from shortbread to swords to kilts and coats of arms. Some of the things you can find are rather incredible. In a similar fashion, a section of the fairground is set aside so that the different Scottish clans can set up booths. They show off historical artifacts, family heirlooms, the different plaid patterns that the branches of their clans wear, and sometimes hand out shots of whiskey.

All of that is great, but for me, the main attraction is the athletics competition. The festival centers around a series of traditional Scottish competitions that roughly resemble that scene from Braveheart where the men were practicing throwing heavy stones. Very large men (like, NFL-sized men) throw weights as heavy as 56 pounds for distance, and then for height – straight up and over a bar. They have to jump out of the way after they toss them up as to not get hit in the head. Then they throw sledgehammers for distance. They toss sheafs, which are burlap pillowcases stuffed with straw or other soft material, over a high crossbar with a pitch fork. Does all this sound medieval? Yes. Are all these men wearing kilts while they do it? YES. It's a spectacle to behold.

But if it wasn't enough of a spectacle, the displays of physical strength get even more unbelievable. Cue the Caber Toss. The competitors (NFL-sized men wearing kilts) pick up wooden telephone poles and toss them forward end-over-tall-end. Mull that over for a second. Then try to comprehend that there's a women's competition that includes all the same games. The Central Florida Scottish Highland Games also feature a Masters division composed of more "seasoned" gentlemen.

 

On the left, a female competitor throws a weight over her head in the Weight for Height event at the 2012 games. On the right, festival attendee Austin Pollard tries his hand at archery.

 

Throughout the grounds there are contests for you to participate in, too. There are archery ranges for kids and adults, as well as ax throwing. They even have a freestanding heavy crossbow that shoots posts. In years past, they have had modified equipment in a designated area so that children can try some of the games.

2014 is proving to be the best year yet. This year, as an addition to the regular festivities, there will be Quiddich demonstrations by collegiate teams. Yes, that Quiddich – the game from the Harry Potter series. Apparently Quiddich is becoming a popular intramural game at colleges and universities across the country. How will they pull that off, you ask? I'm not sure, but I'm excited to find out.

Then there's the beer. Could you have a Scottish anything without beer? And it's really good microbrew beer from Dunedin Brewery – usually there's a lighter ale, a wheat beer, and a dark beer of some sort. At previous festivals, the beer has been sold by the cup and plastic pitcher, the latter of which makes an excellent souvenir.

 

A couple of Pro Tips …

1. Get there early. There's plenty of parking, but you may have to walk a long way to get to the gate. Arriving early also helps you get a good view of the athletic events.

2. Bring cash. Many of the vendors and activities only accept cash, and while there are ATMs around the field, they can run out of the money by the end of the day.

3. Consider bringing chairs or blankets if you want to sit and watch the games, otherwise your options are standing or sitting on the grass.

4. Buy your tickets ahead of time. They are $3 cheaper and you get in the gate a little bit faster.

 

Want to keep in touch with your Celtic Spirit?

Check out these Scottish, Irish and English spots around Orlando ...

Raglan Road Irish Pub & Restaurant offers regular live entertainment and great Irish food at Downtown Disney.

The Pub servers beverages from Scotland as part of their British theme.