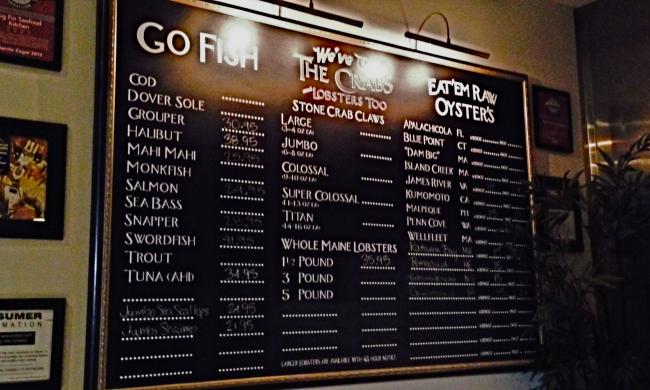 Get Crabs AND the Best Tails in Town
I basically don't cook. I'll grill steaks or put something in the crock pot every now and then, but my friends and family know and have accepted that I am not and never will be a "good cook." And I'm OK with that.

It doesn't take long to get bored with sirloins, BBQ pulled chicken and the occasional really desperate gluten-free pizza dinner. And I love to go out to eat. It's legit one of my favorite things to do, and Orlando has an insane number of dining-out options. Unfortunately, this hobby of mine oftentimes leads to "slight disagreements" with my wonderful husband on how much is acceptable to spend each month on dinners out. I know he's 100% right; I do! I just love going out soooooo much.

There's one month each year — just one — where I don't feel guilty about visiting my favorite not-in-the-budget restaurants. It's Visit Orlando's Magical Dining Month, and it's every September. During this magic-filled 30 days, you can visit the 65 participating restaurants and dine on an appetizer, entrée and dessert for just $33 per person. Restaurants with all types of cuisine and from all across Orlando participate, including two of my absolute favorites — The Capital Grille and The Melting Pot. So, when the hubs and I decided to partake in some dining of the magical kind, I thought the locale would be a no-brainer. But looking at the MDM menus offered by all the restaurants was like being in gourmet I-usually-can't-afford-this heaven.

One menu really jumped out at me though. Big Fin Seafood Kitchen in the Dellagio on Restaurant Row had oysters and sushi as appetizer choices; filet and lobster tail surf and turf as an entrée option (there were others, but I honestly saw nothing after surf and turf); and a mostly gluten-free dessert, key lime pie (I just avoid the crust). It was like this menu was made for me!

But I'd never been to Big Fin, and what if it sucked, and what if I could have gone somewhere else, and what if I couldn't talk my husband into going out again, and so what if this was my only shot at dining magically?!

Well, I threw caution to the wind and went with the menu that was obviously designed specifically for me, and I'm honestly so glad I did! If you've never been to the Dellagio, parking is a breeze. There's valet, but also a garage and plenty of self-parking. Once inside the restaurant, everyone was incredibly friendly. The main dining area is open, with a super high ceiling and décor that reminds you of an upscale, authentic, waterfront seafood restaurant. Like at any moment someone in a plastic apron would throw a humongous fish for the chef to catch.

Some advice — before being seated, ask for the MDM menu, because the hostess won't automatically give it you. Our server, Lawrence, was very personable and seemed genuinely excited for us that we were there for Magical Dining and it was our first visit. He brought up how great he thought Big Fin's menu was compared to some of the others, and I agreed the oysters + sushi + surf and turf combo was irresistible. He gave us a few minutes to look over the MDM menu (I pretended I didn't have it memorized) and enjoy our beverages. Keeping with the adventurous spirit of the evening I ordered a pinot noir I'd never tried. And wouldn't you know, it was excellent!

As far as the food, being completely honest, I don't have a single negative. Both the appetizers were awesome — we ordered the oysters grilled to try something new, and they were friggin' amazing! — and my medium-rare steak was cooked just how I like it (more rare than medium). I was almost too full for dessert, but I managed to enjoy some key lime pie and a few bites of the dessert of the day, which was like a Ferrero Rocher hazelnut chocolate, only much larger, and with no top shell, so you had immediate access to the moussey part. Additional bonus points were awarded because it was topped with raspberries.

 


Not only were our food and beverages magical, but valet had our car waiting as soon as we left! OK yeah, that is 100% in no way my car. But it was parked right at the front door and it was absolutely gorgeous.

 

So needless to say I'm more than happy with my decision to branch out and try a new-to-me Orlando restaurant. One more fun locale I can check off my Things to Do in Orlando list. :)

If there's a place you've been meaning to try, or a favorite that's sometimes out of the budget, then Magical Dining Month is a great time to experience the dishes a restaurant is known for, without paying full price. But be careful; it's addicting. I'm already planning where to go to next. Then I just have to convince my husband.

 

Who else is Magical? ...

Cuba Libre Restaurant & Rum Bar at Pointe Orlando celebrates the flavors and traditions of Latin Dining. It also has a great drink menu.

Maxine's on Shine in downtown Orlando is a neighborhood restaurant and bar with a fun, eclectic atmosphere. Considered one of the city's best-kept secrets.

Dragonfly Robata Grill & Sushi Lounge is a must-try for anyone who loves sushi. This Restaurant Row eatery has a modern take on traditional Japanese pub dining.