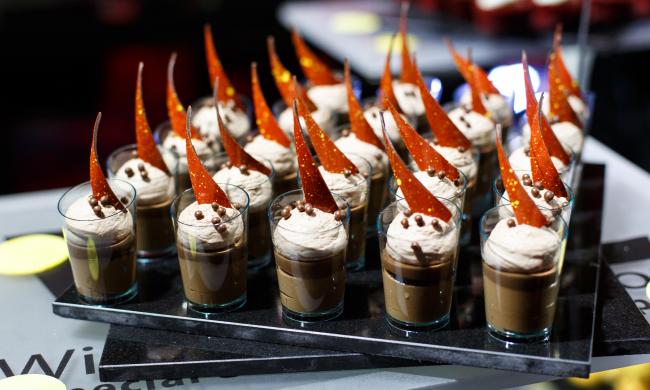 Great Food ... Greater Cause
Please take a moment to read all of my previous posts. I'll wait. …

OK fine, not necessary. Buuut, if you have read some of my previous recaps about things to do Orlando, you would probably sense that I am a gung-ho fundraiser fan. I legit love them. Large or small; $5 car washes for a high school sports team or black-tie gala for a national nonprofit. I. Love. Them. All. And just last week I was fortunate enough to attend one that falls somewhere in the middle of those extremes — Share Our Strength's 24th annual Taste of the Nation Orlando. This particular fundraiser had two co-beneficiaries, Second Harvest Food Bank of Central Florida (www.foodbankcentralflorida.org) and Coalition for the Homeless of Central Florida (www.centralfloridahomeless.org).

The primary goal of Taste of the Nation, which holds events all over the … well … nation, is to end childhood hunger. In the U.S., one in five children doesn't know where his next meal is coming from. That is obviously unacceptable. Enter Share Our Strength and the No Kid Hungry campaign to end childhood hunger, which is working to ensure that all children receive the healthy food they need every day.

Share Our Strength's Taste of the Nation Orlando is held each year at Orlando World Center Marriott. This year, 35 local chefs donated their time and talents to create some awesome dishes for the attendees. I know they were awesome, because I'm pretty sure I tried every single dish. Fact.

 


Taste of the Nation Orlando had a great venue, food from 35 chefs, and 50+ silent auction items.

 

And I promise I tried really really hard to pick a favorite dish, but there were two dishes I just could NOT decide between — The Capital Grille's filet and Sushi House's volcano roll. But I'm a sucker for sushi. Favorite beverage? Yeah, there were way too many good wines to choose from, and Nespresso served some awesome coffee, and Orlando Brewing had a new beer, Lagerhead IPL that was pretty great. A ticket was $150, and believe me you got your money's worth in food and beverages.
 

 


My husband, Mike, and I had an awesome time at Taste of the Nation Orlando. We'll definitely be back!

 

There was also a live band, and live and silent auctions. Neiman Marcus alone donated 11 items, and total, the auction had more than 50 items you could bid on. Vacations, sports memorabilia, designer bags, autographed books, theme park tickets, plane tickets, resort stays, restaurant gift cards - you name it. The really cool part was that all of the bidding was done through your smartphone. You could look at all of the items on your phone, see where the bids were at, and place your bid.

In addition to the live and silent auctions, there was a wine cellar giveaway. For $25 you could purchase a key that would hopefully, maybe, possibly open a cellar door that would get you $2,500 in wine! Of course I purchased a key! There were only 250 for sale, so your odds weren't horrible. At the end of the evening, everyone with a key got in line and individually tried their keys. Of course I didn't win, but I made some friends in line, and it was still a really cool fundraiser idea.

Another evening highlight was a head-to-head cooking competition between two chefs (think Top Chef Last Chance Kitchen). The chefs were given 20 minutes to cook a dish, which were then judged by Lucille O'Neal Harrison, the event's honorary chair; food critic Scott Joseph; and anchorman Bob Opsahl, who started with WFTV Channel 9 in 1978. He was great! He even gave me a hug. :)

Overall, the event was a tremendous success! The food and beverages were top-notch, the venue was great, the fundraising opportunities were plentiful and worth your money, and everywhere I looked everyone was having a good time. And the absolute best part is that Taste of the Nation Orlando raised a grand total of $245,192.50! And that is without a doubt the absolute best part of this truly great dining event.

 

Top photo by DSWfoto.