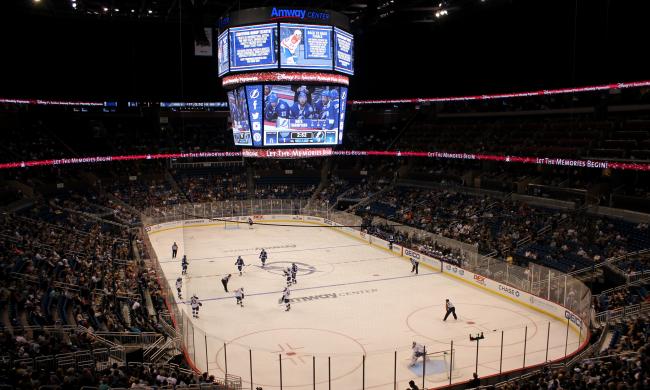 Ice Ice Baby
Gordon Bombay; the flying V; knucklepuck; quack, quack, quack, quack! All children of the early 90s know exactly what I'm talking about. Emilio Estevez during his glory days, Joshua Jackson before his Dawson's Creek and Fringe days (and getting super hot). Ohhhhh the Mighty Ducks. One of the best movie trilogies of all time. And if you remember from my CENFLO post, I'm quite the movie buff, so I feel qualified to make such judgment calls.

The Mighty Ducks instilled in me at a young age that ice hockey is amazing and the good guy always wins (especially against mean Icelanders). I proudly rocked my 1994 NHL-licensed Mighty Ducks of Anaheim windbreaker jacket for years. Years.

As an adult I now realize that one of the most entertaining parts of a professional ice hockey game is fights. Another plus is that they're really cold — a rarity in Florida.

My affinity for ice hockey has grown as I've aged. You better understand just how difficult the sport is, and how much money the players spend in dental work. So when I had a chance to attend the NHL Tampa Bay Lightning preseason game at the Amway Center in downtown Orlando I absolutely jumped at the chance. My husband was born and raised in Tampa, which is where we met, and we're both Lightning fans (OK, so I only know the names of two players, but I still cheer for them whenever they're on TV!). Throw in a couple of our friends who are hockey fans (and some who aren't, but that's OK!), and we had a group extravaganza at the Amway Center, cheering on the Bolts, who were playing the Saint Louis Blues.

 


It's always more fun to do things in Orlando with friends. :)

 

One of my favorite things about the Amway Center is that it doesn't matter why you're there — if the game is boring or your seats are bad or you got dragged to a concert with 16,000 screaming Beliebers — there is always somewhere else in the arena you can go and have a great time. The Magic Grill, Jernigan's, ONE80 Grey Goose … In this case, we all had great seats, they just weren't all together. So we divided our time between sitting and hanging out at the Budweiser Baseline Bar, which is conveniently located at the top of Section 102 and offers a wonderful view of the action on the ice (or court, as the case might be). The bar serves liquor, beer and wine, and it's surrounded by food vendors selling everything from popcorn to fresh carving board sandwiches to Cold Stone Creamery ice cream — everything you need all together in one happy corner of sporting food and beverage heaven.

The game got off to a rough start. The Lightning were losing in both the first and second periods, and I was pretty much praying it at least wouldn't be a shutout. There were two pretty entertaining fights, so there is that.

 

 


What ice hockey game is complete without a minor scuffle or two?

 

Then, what do you know?! The third period comes around, and with hardly any time left, BAM! All tied up at three apiece!

After five minutes of regulation overtime, it was still tied. So next was a shootout. Each team picks three players (as opposed to the five used in international play) to face off one-on-one with the opposing team's goalie. We missed our first shot. Very anticlimactic. Luckily, the Blues (what exactly do we think their mascot is?) also missed. Then BAM! Our second shot is golden! Siren wails! And the Blues miss (haha!). BAAAMMMM! The third one finds the back of the goal, siren goes off, and the Lightning win!!!! Cheering erupts, people are jumping, people are high-fiving, people are screaming! It might have been a bit much for a preseason game celebration, but it was seriously one exciting conclusion. Orlando may only get one Lightning game a year, but dang did they make it count. Thank you, Bolts, thank you.

 

While you're at the Amway Center ...

The Magic Grill is open before, during and after games, concerts and events. It has a full menu, large outdoor patio and two bars.

Jernigan's is on the Club Level and open select evenings before and during games and concerts. You don't need a Club Level ticket to make reservations at this full-liquor bar and restaurant, which offers a great view of the bowl.

ONE80 Grey Goose is at the top of the Amway Center and offers an awesome view of downtown Orlando. A great after-game spot, the full-liquor ONE80 is open every day, whether or not there's an event at Amway.