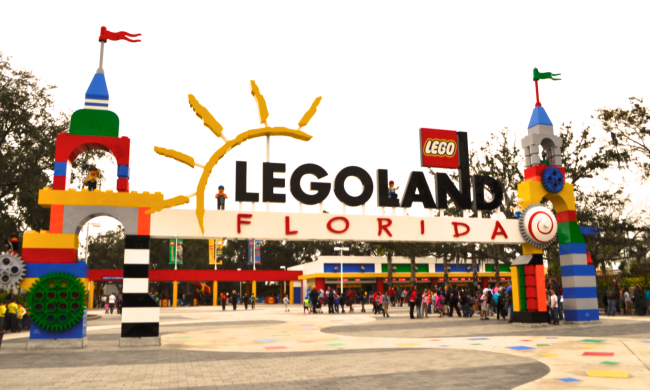 LEGOLAND: Mind Blowing
There is a certain strategy that I carefully calculate before attempting a theme park, especially when wanting to:

1. hit all the 'coasters,
2. avoid all the lines and,
3. be home by 5.

In the case of my most recent day trip to finally check out Central Florida's newest theme park LEGOLAND, this seemed doable. That is, until my friend Katie and I arrived to see bus loads of screaming tiny humans disembarking and lining up like little ants; all trying to enter through the arched portal built entirely out of — what else? — Giant LEGOS! I am a bit of a "theme-park snob;" I know my home turf well, I know how to manage it, and I know how to get. ish. done. —  even with my own littles in tow. So, I was definitely out of my familiar comfort zone and was beginning to think that LEGOLAND was a bad idea this murky morning.

 

 

We knew going in that LEGOLAND was a theme park for young kids 12 and under, their accompanying parentals, school field trips, and nerds *ahem* adult LEGO enthusiasts. We weren't expecting to get a whole lot more out of it than satisfying our curiosity and putting an end to the constant begging of our own kids to pleeeeeease go.

 

Some back-story …

 

 

In my decade (plus) of living in Central Florida, I had followed the fact that Cypress Gardens — long-standing matriarch of Florida theme parks and well known for it's water skiing shows — was barely treading water. It closed. Re-opened. Closed again. I lost count after that. Then suddenly the rumor mill reported that the LEGO Corporation had purchased it. Lego?

Turns out, although a newcomer to Florida, LEGOLAND parks have been around for a long time— since 1968, in fact. Unless you've visited Denmark (I haven't), who knew? One company's money-pit of a slow-dying-but-well-loved theme park is another corporation's big opportunity! But, was it worth the Friday traffic to see it?

 

The Play-by-Play

 

 

After walking through the turnstiles and past the giant water spitting, life-sized dinosaurs constructed entirely of the tiny plastic bricks, we found a park map. Step 1 of Operation: Conquer and Leave was to scope out the "Big 4," the term "big" being verrry relative. LEGOLAND has four tot-sized roller coasters, all perfectly themed and nested within four of the ten themed zones. Each zone is representative of their different toy lines: LEGO Technic, World of Chima, LEGO City, Duplo Village (for the little littles), Land of Adventure, Star Wars and more. I could almost taste the plastic as memories came rushing back of sitting in a mound of multi-colored bits whilst chewing on at least one.

The Dragon within the Kingdoms seemed the closest coaster, so after a photo of the double-decker carousel made up of rideable Lego horses, we headed there right away. The walk over was a bit underwhelming, as they had the entire Duplo Village zone blocked off with construction tarps and signs of apology. A few steps more down the footpath and castle walls complete with LEGO guards, princes and princesses (and LEGO gift shops) welcomed us. We were instantly immersed in all things Medieval.

 

 

We opted to skip the Merlin's Challenge ride and quickly hopped into the queue to ride our first coaster of the day. 30 minutes later, we seated and strapped-in for a ride on the flying beast. The ride began slowly as we made our way through a LEGO village where signs of flame-breathing destruction were evident. In true story-immersion style, we twisted through different comical scenes inside the castle before click-click-clicking up-up-up for the highest plunge of the ride. This was where the "coaster" part happened. For 1 short minute, we spiraled, flew, and screamed (yes, I am a screamer) our way back into the castle. Short and sweet and fun.

When we left the castle walls to trek to our next biggie, we were reminded of the fact that it was lunchtime by the rumbly in our tumbly at the smell of the grilling Castle Burgers. Quick pit stop for some surprisingly tasty burgers and fries, and we were back on track.

We spent the majority of our day circling the outer edges of the park to hit the Big 4 — all really cool in their own unique way. Coastersaurus, was wooden and rickety; Flying School, quick and dangle-y; Project X, fast and twisty.

 

 

Perfectly satisfied and thankful for our theme park skills, we headed towards the front gate with time to spare.

… Until we rounded a bend and found the real jewel of this park: Miniland.

 

 

At every turn this park has so many cool little details, far too many for me to explain here. But this spectacle — and what was worth the 3 hour round-trip drive — left me speechless. Miniland is an amazingly detailed, walk-through world. Huge but tiny dioramas of New York City, San Francisco, Washington DC, Daytona Beach, St. Augustine, Cape Canaveral and others mesmerized us. I instantly wished we had come to this part of the park first. I wanted to spend hours exploring the nooks and crannies of these cities. If only I had left time to point out North Beach where I used to live in San Fran to my daughter or get our photo in front of the Statue of Liberty! We could have seen which race car won at the Daytona 500, and I could have retraced my steps down the mall in DC. WOW!

Just as I thought I couldn't take much more awesomeness, I spotted the familiar shape of the Death Star (cue Darth Vader's theme song). They've got Star Wars, too?! I wandered off from my little group, being lulled up the hill by my inner nerd *ahem* adult Star Wars enthusiast. More dioramas splayed out of planets/scenes from the Star Wars movies. Naboo, Tattoine, the moon of Endor! That's it! Mind=Blown.

 

 

Katie jerked me out of my Sci-fi stupor by calling for me from across the way. It was time to get back in the car and trek back home.

 

The Verdict

 

 

I love LEGOLAND. Why? Because I love a good surprise. LEGOLAND's ingenuity catapulted my imagination in so many directions that day. I think that has been the goal of LEGO since its inception. It was refreshing, different, and amazing, yet humble. All that, while still preserving the gorgeous original Cypress Gardens! For your inner child, or for your actual child, it's definitely worth Friday traffic to drive down and see it.

 

 

Don't feel like driving? Ride the LEGOLAND Shuttle!

LEGO fans traveling from Orlando can enjoy round-trip transportation to LEGOLAND courtesy of the LEGOLAND Shuttle! For $5 a person, the shuttle departs from Orlando Premium Outlets on Vineland Avenue at 9 am and returns at park closing. Guest don't need to worry about gas money or traffic as they ride in comfort to the gates of LEGOLAND and back. Reservations are required to board and can be made online or by calling 1-877-350-5346.

Guests riding the shuttle can grab an early breakfast close by at Panera Bread on Vineland Avenue before hitting the road.

When guests return, they can enjoy some shopping or dining at Orlando Premium Outlets which is open six nights a week until 11 pm.