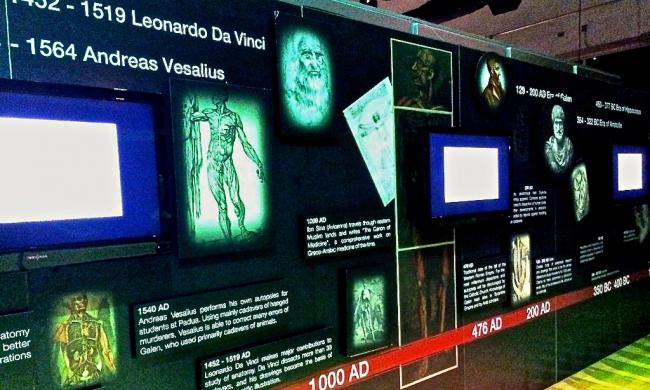 Oh, Body!
Generally, when it comes to things to do in Orlando, I tend to lean toward the eating, drinking, theatrical, lots-of-really-cool-rides types of activities. However, every now in then I like to do something that's a little more education. You know, stimulate the brain and all that.

For years I've been hearing really great things about the Our Body: The Universe Within exhibit. It first visited Orlando as part of a traveling exhibit, but it now has a permanent home on International Drive. In fact, it shares a building with one of my new favorite finds, CSI: The Experience. For one low ticket price you can visit both! How nice and cost-effective.

Our Body has on display real human bodies that have been preserved through a process called polymer impregnation or plastination. Basically, it's a long process that replaces the body's fat and and water with plastics. The body's fluids are replaced by liquid, which is then hardened to create a solid, durable specimen. It's all very cutting-edge and complicated, but there's a very helpful and informative sign in the exhibit that explains the process in detail.

After learning how the bodies are preserved, it's time to head on in and see them. First you get a look at human bodies as a whole. There's a human skeleton riding a bicycle; a human muscular system frozen mid-motion; a body with just the circulatory system; one with just the nervous system; and an incredible display of a human body that's been sliced horizontally from feet to neck, and the head vertically, so you can see the skin, muscles and internal organs as if they were giant slides you would put under a giant microscope. It's truly incredible.

The rest of the exhibit is broken down into individual systems and organs, including the brain, lungs, digestive tract, kidneys, reproductive system, and so on. A separate, draped off area displays stages of an embryo, fetus and newborn baby. Understanding that this could be difficult for many to view, there is a clear warning sign before you walk around the pipe and drape into this section of the exhibit.

The whole thing is incredibly educational and fascinating and, really, almost too difficult to take in. For me, it was hard to shake the eerie feeling that these were humans who had lived lives, had families, and for one reason or another donated their bodies to science. Who were they? Where did they live? Did they work? Understandably, there is absolutely no photography allowed inside the exhibit, as the families have requested no pictures be taken.

I just did the regular walk-through tour, but you can also purchase an audio guide for the tour, and if you schedule a large group tour in advance, you can request an actual live, human guide. Teachers and parents, this is a popular field trip destination, especially for older students who are taking biology, anatomy or another one of those science classes I completely avoided.

All in all, it makes for a fun, educational little afternoon — solve a murder over at CSI, and then walk across the lobby to learn alllll about the body at Our Body. Orlando is fortunate enough to be home to the only permanent exhibit, and it really is an incredible, nothing-like-it attraction. If I seem at a loss for my usual spunky, cheeky, abbreviated and/or overly exaggerated words, and love of hyperbole, it's because I am. I'm a little in awe of this attraction. It really makes you feel, well, human.

 

What else can I do on International Drive?!

There are plenty of attraction on I-Drive that only take a few hours. If you wanted, you could probably cram them all into one day! But we really don't recommend that.

Across the parking lot from CSI and Our Body is Titanic The Experience, which has on display more than 100 items from the ship.

Fun Spot America has rides, rides and more rides, including four go-kart tracks, roller coasters and rides just for the little kids.

I-Drive loves mini golf. Congo River Golf is just one of the many within walking distance. If you're visiting, I promise you'll be a mini-golf pro by the time you leave Orlando.