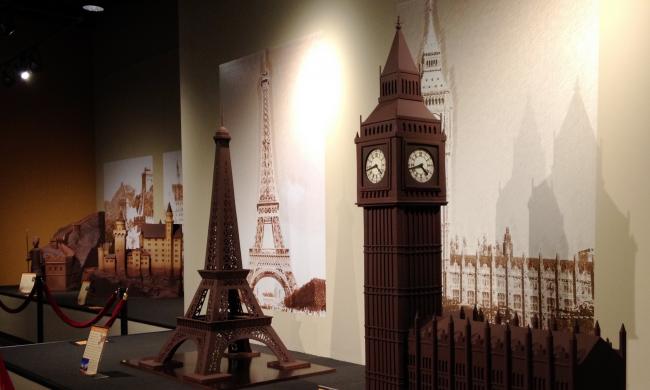 Out of This World
Please join me in welcoming the newest addition to International Drive — World of Chocolate Museum & Café, where you learn all about the history of the cacao plant and chocolate, behold the wonder of gigantic solid-chocolate sculptures, and sample lots of gourmet chocolate. Basically it's like winning a golden ticket to visit Willa Wonka, only you don't get turned into a giant blueberry or shrunk to the size of a Diet Coke can and transported into a TV. You also don't inherit the building if you're the last one standing, but it would be kinda cool if you did.

Your journey begins at the Café, where there's tons of fresh, bite-size chocolates and chocolate baked goods on display just begging to be sampled. You can also buy gourmet chocolate bars and hot chocolate. (Any bets on how many times I'm going to say chocolate? We'll take a count at the end.) You also end at the Café, so don't start shopping yet.

 


The Café has cases filled with fresh chocolates that are begging to be sampled!

 

Tours begin on the hour and last about 45 minutes. If you're lucky, you'll get Tyler as your guide, because he's awesome. In addition to being incredibly personable and knowledgeable, he's also "friends with Harry Potter," if you know what I mean. *wink wink. He also talks pretty fast, which, as an occasional speed-talker, I can appreciate.

Our awesome guide Tyler took us through the history of chocolate and how it went from an odd pod on a tree trunk in the rainforest to cacao seeds being harvested and crushed and turned into a beverage for royals to a beverage recipe being transformed into the phenomenal thing it is today — a chocolate bar. A dark chocolate bar. With almonds. And sea salt! Mmmmmmmmm

You'll also see some pretty incredible chocolate sculptures that are made from solid dark, milk and white chocolate. No hollow Easter bunnies here! Each piece was created overseas and then brought to the U.S. by boat, where the original artists reassembled them in their specific display area at the museum. All fared well on the voyage except the five-foot Eiffel Tower, but she's OK now.

 


The pictures don't do them justice; all of the sculptures are incredible. Plus they smell really good.

 

As a history nerd, I loved learning about the evolution of chocolate. But I'm thinking most people are primarily concerned with the "When do we eat chocolate?!" part of the tour. Totally understandable. Toward the end of the tour you get to sample at least a dozen kinds of chocolate from different cacao beans — milk chocolate, dark chocolate, darker chocolate, darker darker chocolate (yum!), spicy chocolate, and then at the very very end, you get to select one the adorable chocolate delicacies from the Café's case of chocolate amazingness. Then you can go ahead and shop, stocking up on chocolate bars that make typical grocery store bars taste like a 5-year-old's first chocolate attempt in an Easy-Bake Oven. (Sorry Publix! I still love you!)

But don't take my word for it. Grab your imaginary golden ticket and head to I-Drive for some chocolate samples. The tour is informative, enlightening and very very yummy. Make sure to ask for Tyler!

*Total "chocolate" count (not including the one in this sentence): 27

 

I had dessert, now it's time for dinner ...

Nothing wrong with enjoying your dessert before your entree! On International Drive there are plenty of restaurants to choose from:

Benihana is a Japanese restaurant known for its awesome Teppanyaki. Definitely worth a visit, especially if you've never been!

Wood Grill Buffet is All-American and right next door. How convenient!

If you're looking for something unique, Thai Thani is only a mile away and features Thai food in an elegant atmosphere.