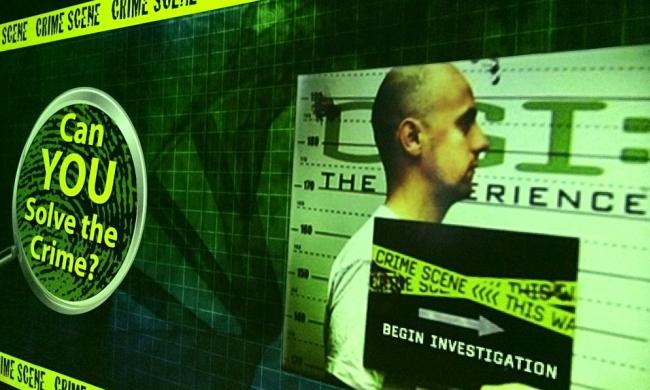 Who are you? Who, who, who, who?
I'm a HUGE fan of television in general. Like, huuuuuuge. Thanks to Netflix and the Primetime On Demand channel, I now watch every episode of approximately 42 shows annually. Sadly, this is a real figure and not an exaggeration. One show that I've been a fan of from the very beginning is CSI. Now in its 14th season, CSI has been named the most watched TV show in the world five times and is the most successful TV franchise ever. I was also a dedicated watcher of its first spinoff, CSI: Miami, until its unjustifiable cancelation in 2012. Ohhhh, Horatio. Your one-liners were the best.

Well, imagine my delight when I learned Orlando's very own International Drive is home to the attraction CSI: The Experience, where you get be the crime scene investigator and you get to solve the crime. Bam! Moved to the top of my things to do in Orlando list.

I'll admit, I was a little nervous when Jessica and I first got there. I mean, I'm a dedicated fan. What if I couldn't solve the crime?! How humiliating. I guess correctly 78% of the time when I'm watching, and I'm not even bagging the evidence and running hair and skin samples to Hodges in trace evidence. What if I can't catch the killer in approximately 42 minutes like they do on TV?

After a short introduction video starring the famous CSI Supervisor Gil Grissom, you're sent off to your crime scene to gather evidence. CSI: The Experience has three crime scenes, so don't worry, it's not a one-and-done. You can solve all three crimes in one day for a discounted rate, or come back another day and try out the others.

Jessica and I were assigned to A House Collided, where a man had driven his car into someone's house. There was a dead body in the car, and of course the living room was in total disarray, seeing as a car just plowed through it.

You collect evidence by observing everything in the crime scene and writing it in your "case files." There's a diagram of the scene, and you record everything. After all, like Catherine Willows says, you never know which piece of evidence will be the one that cracks the case!

Once you've finished recording all the evidence, you head to the CSI offices and six color-coded lab areas. It's pretty foolproof. Our evidence sheet is green, so we head to the green lab stations. We visited six stations — latent prints, impression evidence, trace evidence, blood pathology, toxicology and forensic biology/DNA — you know, all the really cool things they talk about on the show. Once you've analyzed the evidence, you visit the morgue for the autopsy, where Chief Medical Examiner Albert "Al" Robbins, M.D., performs an autopsy on the vic. (That's short for victim. I watch a lot of crime shows.) After a gory, gruesome autopsy (don't eat before you go), you're all done, and it's time to report your finding to Grissom. (OK, I'm totally kidding. The autopsy is definitely G-rated.)

The moment of truth. After entering all your data into a computer — and you're on your own for this, no cheating or help from friends! — Grissom will let you know if you've ID'd the correct killer and whether you can continue as a newbie CSI.

I did it! I did it! I got a 100% and Grissom said I'd make an incredible CSI! Pshhh. I wasn't worried.

OK, so it's not as difficult or elaborate as the actual show, but if you're looking for something unique to do for an hour or two, this attraction is unlike anything else in Orlando. There's also a gift shop, so you can stock up on all the official CSI gear you want. And even if you're not a fan of the show, it's still a cool experience. It's inexpensive and fun and educational. How many places can say that? Oh, and did I mention you get to wear the official CSI vest?! So. Cool.

 

You just solved a murder! You must be hungry ...

CSI: The Experience is located right in the heart of I-Drive, walking to distance to literally a dozen restaurants. Hopefully you didn't lost your appetite after that autopsy.

Chili's is a famous national chain that serves American and Southwestern dishes. It's famous for its ribs, 2 for $20 menu and wide selection of margaritas.

If breakfast if more your thing, you can easily walk to IHOP or Denny's. Both have great breakfast menus that are served all day.

If you're looking for something a little different or you want to watch a sporting event, Brick House Tavern and Tap has a great atmosphere, fun interior, and good food. There are plenty of TVs, and even a recliner viewing area.