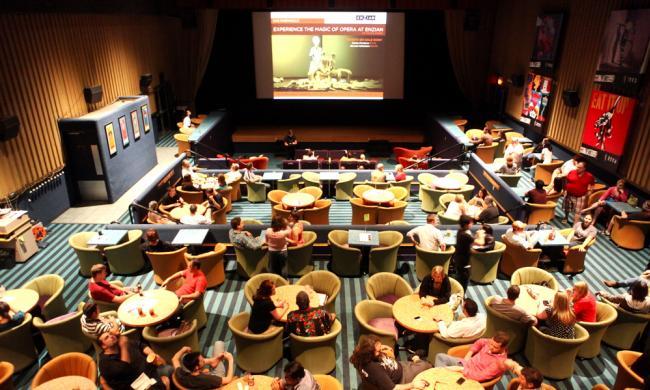 FilmSlam
Second Sunday at 1:00 p.m., check dates below.

at Enzian Theater

Near the intersection of Orlando Avenue and Magnolia Road, across from Buca di Beppo
1300 S. Orlando Ave. , Maitland, 32751
FilmSlam is a monthly showcase of independent film talent in Orlando. Guests are invited to submit to FilmSlam, or simply attend and watch a series of independent films. Audience members can vote to select each month's winner, who then advances to participate in Enzian's Brouhaha Film & Video Showcase. Prizes are awarded to first, second, and third place.

FilmSlam started as a project of University of Central Florida's Downtown Media Arts Center. Enzian became the home of FilmSlam when DMAC closed in 2006. Now in its seventh year at Enzian, FilmSlam continues to be a popular outlet for indie and student filmmakers throughout the State of Florida.

FilmSlam will usually be held on the second Sunday of each month at 1 p.m. at Enzian.

FilmSlam 2014 Dates
February 9, 2014
March 16, 2014
May 4, 2014
June 8, 2014
July 13, 2014
August 10, 2014
September 14, 2014
October 19, 2014

For Film Entrants

Instructions for entering your film can be found on the Enzian Theater website. Films must be submitted in DVD format and must have a total running time of less than 20 minutes. Film makers do not have to pay an entry fee, but viewers must pay a $5 admission.

FilmSlam is held at the Enzian Theater. For more information on the Enzian Theater, view their profile page.
Upcoming Events
that also might interest you