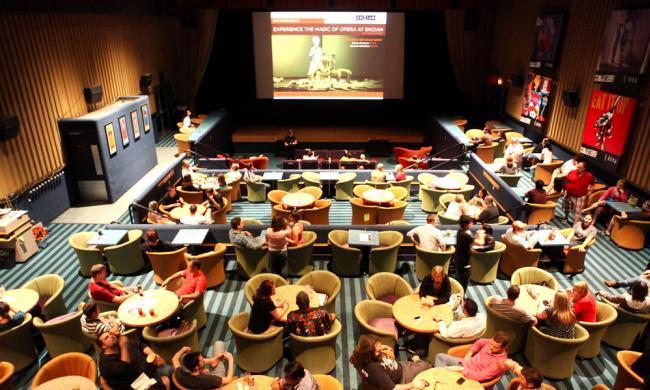 Science on Screen: The Diving Bell & the Butterfly
Near the intersection of Orlando Avenue and Magnolia Road, across from Buca di Beppo
1300 S. Orlando Ave. , Maitland, 32751
The Enzian Theater joins 17 theatres across the country to take part in Science On Screen Night. The event is $8 general admission and $5 for Enzian Film Society members. 

Each film for the Science On Screen series will be preceded by a fascinating presentation from a notable expert from the world of science, technology, mathematics, and medicine. This month's movie is The Diving Bell and the Butterfly, Julian Schnabel's visual masterpiece based on the memoirs Of Elle France editor Jean-Dominique Bauby, who, at age 43, develops Locked-in Syndrome, a rare neurological disorder characterized by complete paralysis of voluntary muscles except for those that control eye movement.

Dr. Evan Allen, Medical Director of the Neuroscience Institute at Florida Hospital Orlando, will talk about the relationship between mind and brain as well as take a neurological look at stroke, coma, and Locked-in Syndrome. Dr. Allen is board certified in psychiatry and neurology. He has served as the Stroke Program Director at Orlando Regional Healthcare System and was the Executive Director and Founder of the North Florida Stroke Coalition. He is a member of the American Stroke Association and Premium Professional member of the Stroke Council. A well-regarded speaker and presenter, Dr. Allen has been published in many peer reviewed journals and given lectures around the country.

The movie is directed by Julian Schnabel. It's rated PG-13 with a run time of 112 minutes.

Science on Screen is held at the Enzian Theater. For more information on the Enzian Theater, view their profile page.
Upcoming Events
that also might interest you