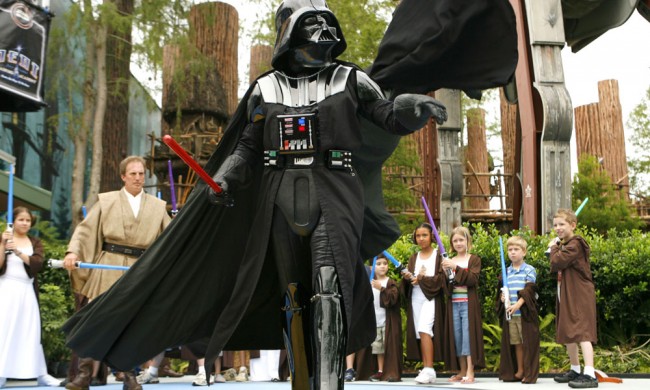 Star Wars Weekends

First left after Hess station on the right.
351 South Studio Dr., Lake Buena Vista, 32830
Star Wars Weekends bring together passionate fans, stunning celebrities, and special characters from the Star Wars franchise. From Friday to Sunday, weekends at Disney's Hollywood Studios will be taken over by the galactic saga. Special events include meet-and-greets with characters from Episode I to Episode VI, and everything in between. Watch Star Wars themed entertainment including a parade of characters, marching stormtroopers, and an astronomical fireworks show.

Enjoy regular attractions at the park, including Star Tours - The Adventure Continues. The ride was recently renovated and features digital 3D. Hop on board the Starspeeder 1000, and with a randomized system in place, you'll never know who you'll encounter and where you'll fly, with destinations like Naboo, Tatooine, and Coruscant. There's also be fun Star Wars encounters around Disney's Hollywood Studios. Keep your eye out for Boba Fett and the Stormtroopers. They'll be patrolling around Disney Hollywood Studios. Verbally interact with them, but be way. You may become the bounty hunter's next target, or the top of the Empire's most wanted list.

Ages 4–11 will love the Padawan Mind Challenge. A pair of quirky intergalactic hosts will lead a series of fun trivia challenges to test the Star Wars knowledge of younglings. Another activity kids under 12 can enjoy is the Jedi Training Academy. Padawans will hone their lightsaber skills and prepare to fight Darth Vader himself.

See your favorite Star Wars characters and celebrities with the Legends of the Force: Star Wars Celebrity Motorcade. he procession begins at the front of the park and travels all the way to the Star Wars Weekends Event Stage—concluding with a grand celebrity welcome.

The Premiere Theatre will be hosting adventure events.  Behind the Force: Star Wars Voices will take visitor behind the scenes of the newest installment in the Star Wars franchise, Star Wars Rebels. Stars of the Saga is a 30-minute Star Wars-themed talk show that takes an entertaining inside look at the lives and adventures of those starring in the Star Wars saga. Thirty minutes prior to Stars of the Saga, come for the Stormtrooper Pre-Show featuring several Imperial Stormtroopers on a special assignment. Be part of the magic as this interactive and surprising presentation takes place in the audience before building to an explosive conclusion. Finally, don't forget to check out the exclusive event Obi-Wan and Beyond starring James Arnold Taylor, voice of Obi-Wan from Star Wars: The Clone Wars. Go on a fun and fascinating journey into the world of voice acting as James performs over 200 popular and iconic characters.

Stick around late for the Symphony in the Stars. The fireworks show for the evening will close the day during Star Wars weekends.

Here's a list of the character greeting opportunities for Star Wars Weekends:

-Meet Disney Pals as Star Wars Stars in Darth's Mall
-Meet the Heroes of the Clone Wars Near the Premiere Theater
-Meet the Dark Side near Darth's Mall
-Meet Members of the Jedi Council near Premiere Theater
-Meet Members of the Rebel Alliance Near Star Tours® - The Adventures Continue
-Star Wars Celebrity Autographs at Echo Lake

Character dining is also available, featuring Jedi Mickey, Darth Vader Goofy, and more of your favorite faces from Star wars:

-Star Wars Dine-In Galactic Breakfast! at Sci-Fi Dine-In Theater Restaurant
-Jedi Mickey's Star Wars Dine at Hollywood and Vine
-Jedi Mickey's Star Wars Dine at Hollywood and Vine with Fantasmic! Dinner Package

Advanced reservations are highly recommended. Book online or call (407) WDW-DINE (939-3463) today.

One-of-a-kind Star Wars merchandise, food, and drinks will be available for purchase throughout the park during Star Wars Weekends.

Star Wars Weekends will be held at Disney's Hollywood Studios. For more information on Disney's Hollywood Studios at Walt Disney World Resort, view its profile page.
Upcoming Events
that also might interest you