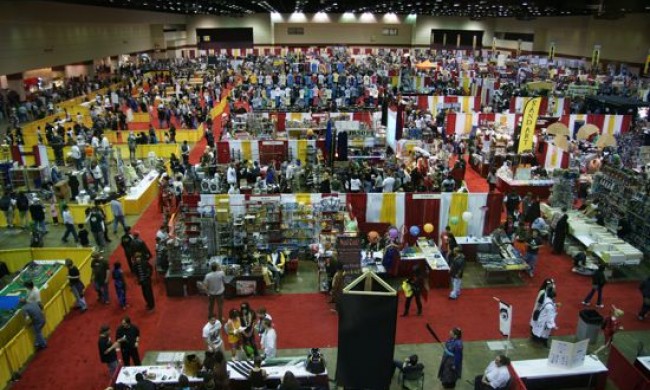 It's a Bird... It's a Plane... It's Orlando MegaCon!
If you're driving down International Drive and spot a Wookie walking down the street, it could mean only one of two things: either it's actually a hairy European tourist or MegaCon is in town.

Running Friday, March 21 through Sunday, March 23 at the Orange County Convention Center, Orlando MegaCon invites fans of sci-fi, comics and fantasy to dress-up and mingle with some of the biggest vendors, artists and celebrities in the geek universe. Actors and industry giants scheduled to make an appearance and sign autographs (for a fee) include Peter Mayhew (Star Wars' Chewbacca), Ron Perlman (Hellboy, Sons of Anarchy), Jon Heder (Napoleon Dynamite), Karl Urban (Star Trek, Dredd), Eliza Dushku (Buffy, Angel, Dollhouse), John Barrowman (Doctor Who, Torchwood), Disney voice actor Jim Cummings, Nerd-God Wil Wheaton (ST:TNG, The Big Bang Theory) and guest of honor, Stan Lee.

Anyone and everyone is welcome to attend MegaCon. However, out of respect to the sci-fi community, you might want to do yourself a favor and brush up on some 'Con rules and popular geek culture before attending the event – and I'm not just talking about knowing who Luke's father is. Here are a few things you need to know before Orlando MegaCon, so you don't look like a noob.

 

(Cos)Play Fair

All guests of MegaCon are encouraged to dress as their favorite characters from comic books, anime, video games, and science fiction TV and film. Kids can get in on the action, too! Children 10 and under are free with a paid adult ticket. Now, some costumes can get pretty elaborate and authentic looking, but remember only props are allowed at MegaCon. Visitors cannot bring actual swords, guns or anything that looks like a real weapon. Just use your head. Fans will get that you're dressed as Wolverine even if you don't have knives taped to your hands.

Also, if you're going to wear a costume, be original! It doesn't take a ton of money to come up with well-designed and authentic looking cosplay. All it takes is a little creativity and ingenuity to create an eye-catching, character-inspired costume. There will be dozens of Darth Vaders, Storm Troopers and Doctor Whos walking around the event, so think outside the box when deciding who to dress as. Except for the ladies, that is. Every girl is required to dress up like Slave Princess Leia at least once. Pretty sure it's a law.

 

Spike has a band!

Everyone's favorite bleach-blonde vampire will be rocking MegaCon on Saturday night! James Marsters who portrayed Spike – the punk vamp with a cockney accent and Billy Idol-swagger – for seven years on Buffy the Vampire Slayer and Angel, will be joined by his band Ghost of the Robot. As the lead vocalist of the band, James will perform original songs at the 9 pm show in meeting room S320. The concert will be appropriate for all ages and seats are first come first served. Tickets for the show are $25 and can be purchased at the door. Earlier on Saturday, fans can ask James questions about his career and various genre roles on Buffy, Torchwood, Caprica and Smallville during his hour-long Q & A panel in Room 310 C - H starting at 11:00 am.

 

Somebody Saaaaaave Me!

This year's event will feature a small-Smallville reunion! Several actors from the series will be in attendance. John Glover (Lionel Luthor), Aaron Ashmore (Jimmy Olsen), Allison Mack (Chloe Sullivan) and Laura Vandervoort (Kara Zor-El/Supergirl). Also lurking in the shadows during MegaCon will be Lex Luthor himself, Michael Rosenbaum! Although he is not listed to appear on the panel's dais, perhaps he'll make a surprise appearance like he did in the show's finale.  The Smallville Q & A panel will take place in Room #320 between 2:00pm and 2:50pm on Friday.

 

The Governor Returns!

While in real life actor David Morrissey (The Governor) is nothing like his evil character from The Walking Dead, it would still be wise to keep at least one eye on that one-eyed villain. Fans can do so by attending The Walking Dead's celebrity panel on Saturday between 3:25 pm and 4:15 pm in Room 320. Morrissey will be joined by fellow cast members Steven Yeun (Glen), Lauren Cohan (Maggie), Danai Gurira (Michonne), Emily Kinney (Beth) and Sonequa Martin-Green (Sasha). It's a safe bet that there will also be several Walkers in the audience. Fortunately, there will be no question and answer portion of the panel. Instead, the cast will answer pre-approved questions submitted in advance by fans online. That's probably for the best – because Walkers aren't very good talkers.

 

Excelsior!

Stan Lee will be on hand as MegaCon's featured guest of honor. The former chairman of Marvel Comics, Lee co-created many of today's most beloved and popular characters: Iron-Man, Thor, The Hulk, The Avengers, The X-Men, The Fantastic Four and Spider-Man. For many, meeting Stan Lee is like meeting Walt Disney. I highly recommend taking advantage of the opportunity to shake hands with the living legend while you still can. Stan will also appear at a Q & A panel on Saturday in Room 320 between 11:25 am and 12:15 pm. He will answer questions and discuss his career as well as the 75th anniversary of Marvel Comics. 'Nuff said!
 

 

Avengers, Assemble... for dinner!
 

Need a place to hang your cape while visiting Orlando MegaCon? The Peabody Orlando is located directly across the street from the West Concourse of the Orange County Convention Center.

Enjoy some fun, entertainment and dining after the convention at Pointe Orlando! With a wide variety of venues and restaurants including Maggiano's Little Italy, B.B. King's Blues Club, Taverna Opa, the Improv Comedy Club and Orlando's only true IMAX at Regal Pointe Orlando Stadium 20, there's plenty for everyone to do!