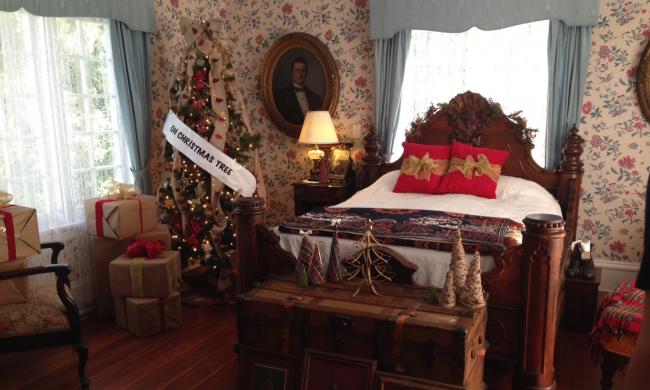 It's the Most Wonderful Time of the Year
This year I decided to switch it up a little for Christmas. I'm actually going to visit all the Orlando attractions and things to do for the holidays that I've been hearing about forever and ever. I've lived here 20 years; it's probably about time. One such attraction I've never seen in person is Leu's Holiday House at Harry P. Leu Gardens. Every year the historic house is decorated for the holidays, and people anxiously await the unveiling to visit the holiday-themed house.

The TodaysOrlando.com team decided we were going to be there the week it opened! Admission to the house is included with admission to the gardens, and tours are every half hour starting at 10 a.m. We spent a gorgeous few hours walking through the rose garden, butterfly garden, bamboo garden and pathways full of more plant varieties than I knew existed. If you like plants and flowers and foliage galore, then this my friend is the place for you.

The highlight of the visit was definitely the Holiday House. Tours last 30 minutes, and you learn about the history of the home, the families who owned it, and the transformation the house went through with each owner. Don't forget — I'm a sucker for history, so this was right up my alley! The gardens are cool and all, but they can't compete with anything on the National Register of Historic Places. Just sayin'.

I've known people who have anxiously waited to tour the home once it's all winter wonderland-y for the holidays, but honestly the tour would be really cool any time of the year; the decorations just make you feel all warm and fuzzy and in the holiday spirit. This year's decorators were students and faculty from Seminole State College of Florida's Interior Design program, and Ron's Miniature Shop & Museum. Each room depicts a classic Christmas song. I may or may not have caught myself singing aloud a time or two during the tour. Oopsie.

 


Leu's Holiday House runs through Jan. 5, 2014, with tours on the half hour from 10 a.m.-3:30 p.m.

 

I'm not saying it's for everyone, but if the weather is nice, you have a few hours to kill, and you want to learn some neat Florida history, then I recommend a quick stop at Leu Gardens. It's also an extremely popular location for family and engagement photo shoots, as evidenced by the multiple groups we saw doing that very thing. 

Not sure which Orlando holiday thing to do I'll tackle next, but the ferris wheel at Light Up UCF looks pretty fun. I'll keep you posted!

 

From gardens to grub ...

All that walking and learning probably made you hungry. Good news! Leu Gardens is centrally located to easily grab something to eat downtown or in Thornton Park:

Dexter's of Thornton Park is a local favorite and has great sandwiches, burgers and pasta.

Ember downtown has an All-American lunch menu that features flatbreads and daily specials.

Tijuana Flats in Thornton Park or downtown offers quick Tex-Mex, such as burritos, tacos, and chips and queso.