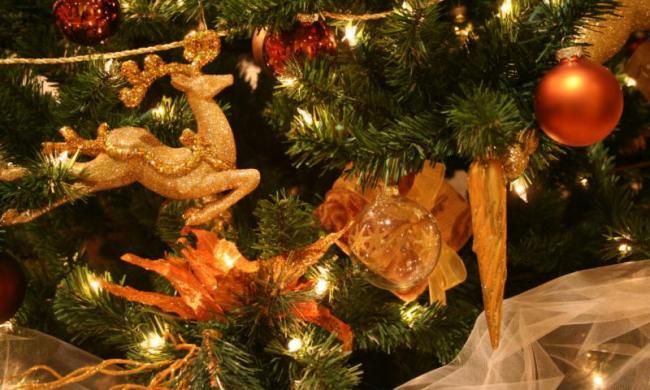 Walking in a Winter Wonderland
I can not believe it's almost Christmas! One day it's all about getting to the beach every weekend, and now Christmas decorations are everywhere and Starbucks is serving lattes in red cups.

Just like every major (and minor) holiday, if you're celebrating in Orlando you have an insane number of options when it comes to things to do. For the winter holidays, there's one event I implore you to attend. Council of 101's Festival of Trees at Orlando Museum of Art is an annual fundraiser that brings thousands of locals and visitors to the museum. It features dozens of Christmas trees that have been sponsored and decorated by Central Florida businesses and individuals, and they are all absolutely breathtaking.

This year, the display runs from Nov. 16-24 and is open 10 a.m.-5 p.m. Tickets are $10 for adults and $6 for children. And there's more to do than just look at trees! Like shop! You can buy a Christmas tree (already gorgeously decorated!), holiday vignette, outdoor holiday decoration, indoor holiday decoration, holiday gifts — basically all of your holiday decor needs are covered.

There's also a yummy smelling Gingerbread Village with elaborate gingerbread houses for sale, and a Toyland Town & Shop were kids can play games, do some shopping of their own (with everything priced for their budgets), and visit with Santa Claus himself. ("SANTA'S COMING! I KNOW HIM! I KNOW HIM!")*

 


No holiday event would be complete with a visit from Santa Claus!

 

In addition to the general winter wonderland-ness of Festival of Trees, there's also two special events to pencil into your planner. The first is Reindeer Romp on Nov. 20 from 6:30-8:30 p.m., and tickets are $12 each for all ages (3-younger is free). It's a family holiday party that will have child-friendly refreshments, live entertainment, and of course a visit with Santa! (Please see previous quote.)

If you're looking for something a little more adult-themed, then Shake, Glitter and Stroll! On Nov. 22 from 7-11 p.m. is probably more your speed. It's a 50's theme, but don't worry, poodle skirts aren't required for entry (although they are encouraged!). There will be food and a cash bar, and of course a live band and lots of dancing. Tickets are $40 per person, and proceeds benefit the museum.

So if you find yourself wandering the streets of downtown Orlando looking for something to do to get you into that holiday spirit even though it's still November and we haven't even had Thanksgiving yet, then stop by Starbucks and get a warm beverage in that well-known red cup and sip it all the way to the Orlando Museum of Art, where you will be overwhelmed (in a good way!) by the sights, sounds and smells of the holidays. Granted, it's 80 degrees outside so the snuggly holiday feeling might leave you as soon as you step outside and start sweating, but hey, that's alright! For only $10 you can visit OMA any time you want. You get cheery and you're giving to a good cause. And that's a pretty awesome way to get into the holiday spirit.

*Quote is from the epic movie Elf, which celebrates its 10th anniversary this year.

 

What else is there to do to get in the holiday spirit?

You could go ice skating at Winter in the Park! It runs from Nov. 15-Jan. 5.

Nothing screams "Holidays!" like a concert from the Trans-Siberian Orchestra. The rock concert The Lost Christmas Eve will be at Amway Center Nov. 30.

Bob Carr Performing Arts Centre is hosting a free Handel's Messiah performance Dec. 1. This annual concert is free and open to the public.