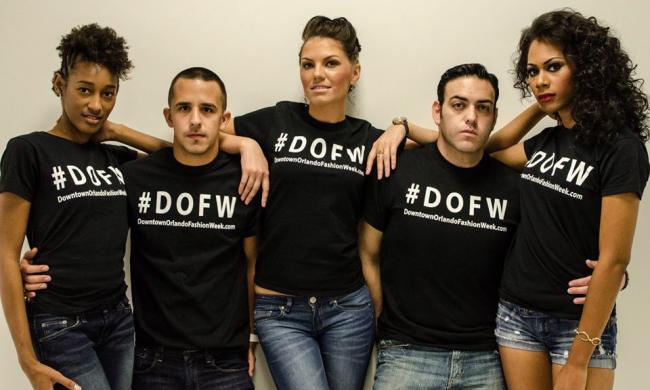 One Day You're In ...
Love fashion shows but didn't quite get the invite to New York Fashion Week? Then you are totally in luck! Orlando is making its own mark on the fashion world with Downtown Orlando Fashion Week.

As an avid viewer of Project Runway, I love watching the process of inspiration, design, creation and debut. But my absolute favorite is that final stage — watching the finished project come down the runway. Sometimes I even fast-forward through the drama and sewing just so I can get Heidi's "Let's start the show."

When I first heard about Downtown Orlando Fashion Week, I immediately penciled the Saturday runway show into my planner. (Sure, I have an iPhone and iPad, but I'm absolutely addicted to my huge personalized paper planner from ErinCondren.com. (Loooove it! And alliterations!)

 


Looking for something fun and different to do in Orlando in November?? Downtown Orlando Fashion Week is Nov. 3-9!

 

If you're even remotely into fashion, private parties, downtown or just having a good time, then DOFW needs to be added to your "Things to do in Orlando" list. It's Nov. 3-9, with events all week. You can of course pick and choose what you want to attend, with the highlight being the House of Me'Ja Fashion Show on Saturday from 7-8:30 p.m.

Here's a quick rundown of the other fashionable events that are part of DOFW:

Sunday, Nov. 3 — Ready Orlando Kick Off Event from 2-4 p.m. at Crowne Plaza Orlando on W. Colonial Drive in downtown Orlando. This is the press party for media, business owners, boutiques, fashionistas and fashion bloggers. It's technically invitation only (I'm going! I'm going! I'm going!), but a limited number of tickets are available upon request.

Tuesday, Nov. 5 — Taste of Fashion Week Jazz & Fashion Night from 7-9 p.m. at Taste Restaurant on Smith Street in College Park. You can listen to live jazz music while enjoying the tapas-style food and cocktail hour.

Wednesday, Nov. 6 — Fashion Night Out benefit for Harbor House of Central Florida from 7-9 p.m. at the Russian Academy of Ballet on N. Mills Avenue in Orlando. Eeeeek! This night has fine dining, special guests and a live performance from the academy dancers. It's hosted by TV personality Mitch English, and all proceeds benefit Harbor House. Yep. Also on my "Things to do in Orlando" list.

Friday, Nov. 8 — Young Nation Beauty, Health & Art Shopping Expo from noon-6:30 p.m. at The Orange Studio on N. Mills Avenue in Orlando. If you love fashion I'm pretty sure you probably love shopping! This is the day you can meet the designers and models, and get special exclusives on clothing and jewelry, as well as beauty and health consultations. The free shopping extravaganza will have lots of luxury goods just waiting to go home with you!

Saturday, Nov. 9 — The main event! The main event! The House of Me'Ja Fashion Show from 7-8:30 p.m. at The Orange Studio. Do NOT miss this 90-minute showcase that will feature work from various designers from across the U.S.

Not ready for the fun to end?? After the show it's the after party …! Hooch at Wall Street is hosting the official after party. So you can cap off an awesome week with some moonshine and mingling. Yep. Also written into the paper planner.

You can purchase tickets online and get waaay more info at www.downtownorlandofashionweek.com. Following the week of fashion and fabulousness, I'll post my photos and honest-to-goodness opinions of how DOFW went. I mean, not all of the designers can be amazing, and everyone has one piece that just isn't cohesive with the collection. Heidi and Tim Gunn taught me that.

 

*All photos by Chris Duroseau.

 

After Party Like a Rock Star ...

The party's over. You don't have to go home, but you can't stay here. So let's go to Wall Street in downtown Orlando!

Hooch — The official after party location. It features made-in-house moonshine, a full-liquor bar, beer, wine, and lots of TVs.

Waitiki — Sip on a tropical rum beverage and enjoy some people-watching along Wall Street.

Other Bar — As you're enjoying your beverage from the full-liquor bar, you can spy on the people enjoying beverages on the other side of bar. Oh yeah. That TV above the bar is really cool.