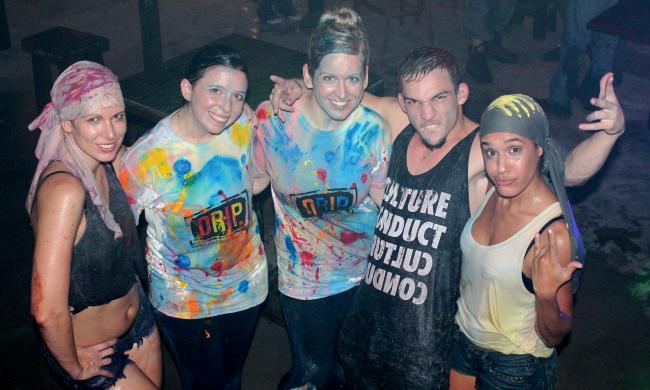 When I DRIP you DRIP we DRIP
I'm a total geek when it comes to the performing arts, but I swear even if you're not into singing and dancing, there's a really good chance you'll love DRIP. It's on International Drive, and it's one of my new favorite finds for things to do in Orlando.

It's easy to miss on I-Drive; it's hidden waaayyyyy behind Senor Frogs. And I highly recommend valet parking through Senor Frogs (as the website says), because pretty much every lot warns that your car will be towed if you're going to DRIP. Eek! That'll ruin a night.

I know this is hard to believe, but I'm actually almost almost at a loss for words for how to describe DRIP. Crazy! I know! It's just so unlike anything else there is to do in Orlando.

Okie dokie, here I go: DRIP starts out like a typical night at an industrial, warehouse-style bar. It's 21+, there's a friendly bartender, you order a beverage from the full-liquor bar. There's even an oxygen bar if you're into that. Hang out, drink, have fun. Then it gets weird/fun/different. You're wearing a white shirt (one of your own, or you can buy one at DRIP), and the whole point is to leave with it as paint-splattered as possible. To help with this, there's a free paint station, where you can spray, use brushes, throw paint on yourself and your friends. The only rule is you have to go %$&#@ crazy. Don't worry, it washes out of your clothes and your hair. Mostly. More on that later.

So you've got some paint on your shirt, and it's time for the show to start. The dancers are mingling around the bar, you get a little teaser of what to expect, and then everyone is ushered into the performance area.

You stand around a sand pit for the show, which features super skilled dancers, live music from a rock band, and lots of sand, water and paint. I won't ruin the plot, but let's just say it involves a man, two beautiful women, and one very popular geometric shape.

The dancers are refreshingly very talented, and the show is loud, wet, fun, adult-themed, and very very messy. The dancers are covered in all that sand, water and paint, and so are you. Do not think for one second there's anywhere you can hide. You will be covered. Covered I tell you! To quote DRIP's website, "If you took a poncho to Blue Man Group you'll need a hazmat suit here."

 


In case you didn't believe me, here's some before-and-after pics. :)

 

After the show, you can meet the dancers and grab more drinks from the bar. Your shirt is a mess of color (it looks really cool when it dries!), and you're basically soaked from head to toe, so don't plan any I-Drive bar hopping after, and bring towels for your car.

Really, I can't say it enough. If you're looking for something different to do in Orlando, this is it! I wish I could explain how fun and cool and totally unique this experience was.

Now, if you asked me to give you one negative, I have one primed and ready. Remember when I said the paint comes out of your clothes and hair? Yeah. Unless you're blonde! It's all fun and games until the blue doesn't come out of your hair! I about died when I washed my hair twice and it still had a very distinct Smurfish hue! Thank you to my fabulous friend and hairstylist Stacey and TO teammate Jessica, who taught me that clear dish soap, baking soda and a little water make a wonderful paste that will get just about anything out of your hair. I followed it up with some deep conditioning, and it was no harm no foul. :)

I will 100% go back to DRIP, and I'm so excited to take all my friends! Probably going to rock a hat this time, though.

 

You can't go out after, so grab dinner before ...

Cuba Libre Restaurant & Rum Bar is just down the street at Pointe Orlando and features some pretty great Latin food.

Ponderosa Steakhouse on I-Drive has a buffet that will definitely fill you up!

Who doesn't love Denny's? And I-Drive has more than one location for you to choose from.